Is your Steam voice chat not working? Do not worry, in this article, we have covered all the possible causes for it. We have also mentioned some methods to fix this issue. All you have to do is follow the article till the end and you will have resolved this issue in no time. Voice chat is a very important and popular feature of Steam. It helps players a lot while gaming with their friends. It also removes the need to use another app for voice chat. But, this feature reportedly runs into issues from time to time.
Steam is one of the best online stores to purchase games. Along with the games, Steam offers several other features for its users. One of those features is the voice chat option. It allows players to chat with their Steam friends in a game. This is a very helpful feature. But the constant bugs certainly are annoying. Most players are unaware of the troubleshooting guide and end up confused with the issue. In this article, we will highlight the most common causes for this issue and how you can easily fix them.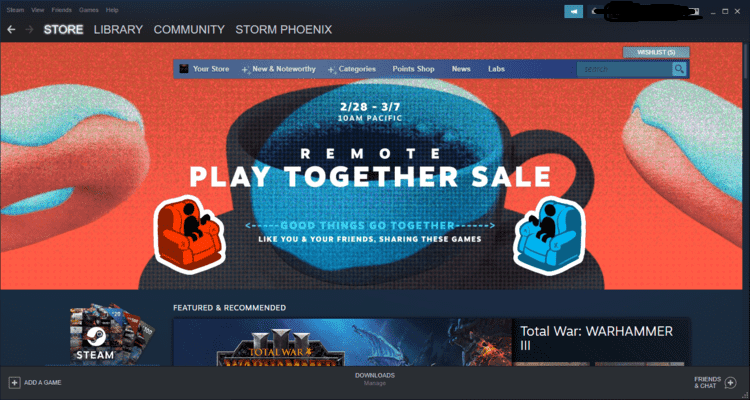 Steam voice chat not working: Fixes & Workarounds.
There are several reasons why the Steam voice chat might not be working. Sometimes, the problem can be with the player's PC or microphone. We will cover all the topics along with their fix. Make sure to read the article till the end.
1) Restart your system. This step fixes minor issues most of the time.
2) Next, check your microphone. Make sure that your PC recognizes your microphone. Then, open Steam and go to Steam menu > Settings > Voice. Now check if the correct microphone is displayed. If not, select the microphone you are using.
3) Make sure that you are not logged in to Steam on different computers at the same time. Being logged in to different systems simultaneously affects the voice chat on Steam. Log out of the computer that you're not using Steam on.
4) Make sure that all the audio enhancements are turned off. To do so, follow these steps- right-click on the volume icon and select Recording devices. Select your microphone and click on Properties. Now, go to the Advanced tab and uncheck the Audio Enhancement option. Next, reboot your system.
5) Check your mic settings in the game. Go to Steam and open your Friends & Chat. Now, select the gear icon in the upper right corner. Next, select Voice and go to "Start Microphone Test". Also, check that you're using the right "Voice Transmission Type". Sometimes, servers also interfere with the voice chat. Try switching to a different server and check the voice chat.
Some other methods-
1) Check that your Privacy settings allow apps to use the microphone. To check the settings, go to Settings> Privacy> Microphone. Here turn on the Let apps use my microphone option.
2) Check whether Steam can record your microphone. To do so, follow these steps- Open Steam> Settings> Broadcasting. Make sure to check the Record my Microphone option. Next, click OK and restart Steam.
3) If nothing else works, make sure that you don't have any issues with your internet connection. Weak or unstable network connections can affect the voice chat on Steam.
In the end, we hope that the above-mentioned methods helped you to fix the Steam voice chat not working issue. Also, remember that your voice chat will not work in Spectator Mode. If you are facing a similar voice chat not working issue on PS4, then make sure to read this article on Android Gram for the fix. Happy Gaming.