Unable to play the mini card game or multiplayer mode in Voice of Cards: The Isle Dragon Roars? Well, many players have reported not being able to connect locally or play the Game Parlor from the title screen. Don't worry as we are here to help you out. There are a few things to keep in mind if you want to play the Multiplayer. Read this article to know how to unlock the multiplayer mode in the game.
Voice of Cards: The Isle Dragon Roars is a Japanese role-playing video game that features a turn-based approach. Each card signifies a scene of the game – the entire story is narrated through cards. You will see a lot of beautiful art and hear addictive voices guiding you through the campaign. The story is based on a single protagonist who sets on a journey to free his mysterious world of an evil Dragon. You will be the one controlling this protagonist and you won't be alone. You will be accompanied by a group of companions (non-playable characters) from a wide range of backgrounds. Basically, you will be controlling the protagonists and his companions' fate – all through cards. This is Voice of Cards' main campaign but it is not available as Multiplayer. Keep reading to know more.
Also Read: Voice of Cards: The Isle Dragon Roars Multiplayer mode: Is it available?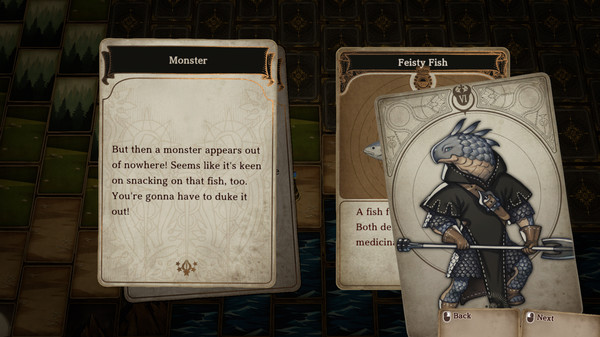 Voice of Cards: The Isle Dragon Roars Multiplayer not working: How to fix it?
As mentioned earlier, the main campaign of the game is a single-player mode. So, where is the multiplayer mode? The multiplayer mode is available via a mini card game – Game Parlor – inside Voice of Cards, that can be accessed through the main campaign or through the title screen. Every town in the game will have a Game Parlor where you can battle against NPCs (when solo) to receive exciting rewards. You can also battle with your friends in the Game Parlor's Multiplayer Mode. But, if you are trying to play the Multiplayer Mode from the title screen for the first time, you will have to unlock the Game Parlor in-game first. To do so, start a new game of the main campaign and play a game of cards in-game at the Game Parlor. After this, you will be able to start a Multiplayer Mode of Game Parlor via the title screen.
For more articles on Voice of Cards: The Isle Dragon Roars, stay tuned to Androidgram!