Do you feel that your tools in Minecraft are a bit too slow? Why don't you try and enchant them? Enchanting your gear in Minecraft is a game-changing upgrade. There are many enchantments to choose from and combine to obtain the perfect set of gear. One of those many enchantments is 'Efficiency'. The efficiency enchantment in Minecraft is the best enchantment that a tool can have. You can enchant your ax, shovel and Pickaxe with efficiency to increase their mining speed. For the players that don't know about it, efficiency boosts the mining speed of a tool in Minecraft.
The enchantment has five tiers. That means a player can enchant their tool with Efficiency 5 which is the highest tier. A diamond shovel with efficiency 5 instantly mines dirt, gravel, and sand. And an efficiency diamond pickaxe with Haste II effect from the beacon can instantly mine stone, diorite, andesite and granite. This cannot be possible without the efficiency enchantment. This comes in very handy for when you need to collect thousands of blocks for a build or when you want to mine for resources. Something that would take many hours to complete can be done in minutes. Keep reading the article to know how you can get the efficiency enchantment in Minecraft.
 How to get efficiency in Minecraft?
Like any other enchantment in the game, efficiency can be obtained in 4 ways- Trading with a Librarian villager, fishing, finding loot chests, and through an enchanting table. Using the enchanting table, you can get the enchantment on your tools on the first try. However, if you want efficiency 5, you will have to change your enchanting setup to unlock level 30 enchants.  To be able to apply the level 30 enchant, you will need to collect enough XP to get yourself to level 30. Personally, I think this is the best way to go about this. If you have a reliable source of XP in your world, you should easily be able to cycle through the enchantments and get what you need.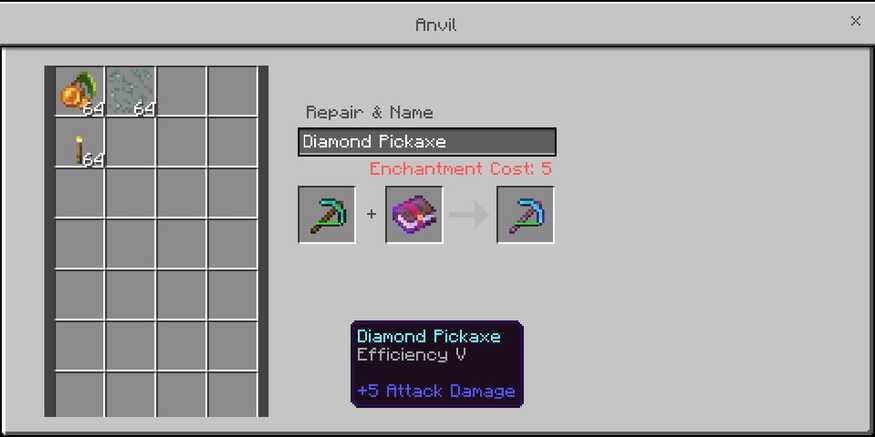 If you don't have a good source of XP, villager trading is your next best bet. Cycle the trades offered by a librarian villager and soon enough you will get an efficiency book. Getting an efficiency enchanted book through exploring structures and finishing is very luck-based. There is no guarantee that you will find what you are looking for. But if you want to, you can still try to find it through fishing or exploration. Just don't make it your only goal. Consider it as a side mission and focus on finding something more valuable and worthwhile.