The legendary Great Eagle Bow is the go-to weapon of Revali, the Champion of Rito Village. In Zelda: Tears of the Kingdom, the bow has returned in all its glory. Players have been longing to acquire this bow for its sheer significance lore-wise and its power to decimate hordes of enemies. In this article, we will show you how to get and find the Great Eagle Bow in Zelda: Totk.
The Great Eagle Bow offers a unique feature. Well, it fires a total of three arrows at the same time while consuming only one arrow from your inventory. Well, with a strength of 28, it is a great weapon that comes in handy during battles. Keep reading the article to find out how to acquire this bow.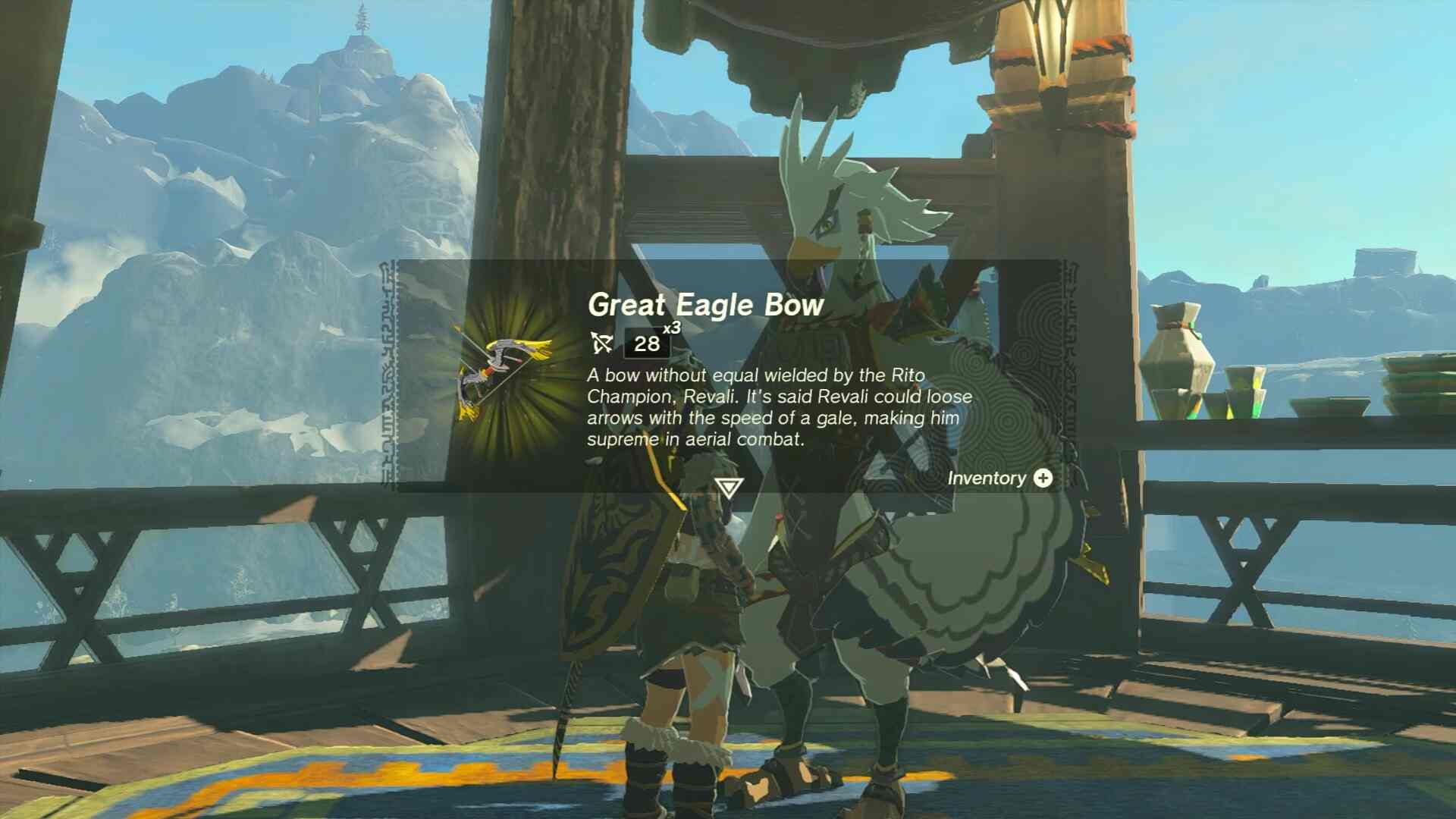 Zelda Tears of the Kingdom (ToTK) Great Eagle Bow: How to get and find
Prerequisites
Before going through this guide to search for the Great Eagle Bow, please make sure that you have completed the Wind Temple and killed the boss named Colgera. After this, you need to head to Rito Village.
How to get to Rito Village
From Lookout Landing, Central Hyrule (-0254, 0102, 0018), head northwest towards the Hebra region. Unlock the Rospro Pass Skyview Tower (-3680, 2346, 0227). This is important not only because you get fast travel and unlock the map for the Hebra region, but also because paragliding toward Rito Village is easier than walking on foot. Here are the coordinates to Rito Village (-3621, 1800, 0104).
How to Get the Great Eagle Bow
When you finally arrive at Rito Village, find Teba. This NPC resides on the northern side of the village. When you approach Teba, a text callout should pop up, saying, "This calls for a new bow". That's how you can identify him, besides his white appearance and orange beak. Or if you don't want to find it for yourself, here are the coordinates of the location where Teba can be found: (-3611, 1825, 0218). Go ahead and talk to him.
Upon talking to Teba, you find out that he needs a swallow bow, five bundles of wood, and three diamonds to craft the Great Eagle Bow. So, after this interaction, the Legacy Of The Rito side quest will begin.
Get the Swallow Bow
Getting the Swallow Bow can be a challenge in and of itself, especially if you're doing a blind playthrough. But in this guide, we will show you how to obtain the bow quickly.
From Rito Village, head over to Flight Range. Here are the coordinates: (-3853, 2290, -0010). From the Flight Range, head east to a small hut. This is Kaneli's hut, with the coordinates (-3786, 2313, 0158). Head inside the hut and pick up the swallow bow residing beside a drawer next to Kaneli's throne. The Swallow Bow probably respawns at that location once every Bloodmoon. However, there is no confirmation of the same, so take this information with a pinch of salt.
How to Collect Wood
Collecting wood in Zelda: ToTK is one of the easiest tasks. For some reason, if you don't have wood in your inventory, we've got you covered. Head over to a tree and chop it down twice. You should obtain bundles of wood using this method. Well, to get the Great Eagle Bow, collect five such bundles.
How to Collect Diamonds
Collecting diamonds is also easy, albeit difficult because of their rarity. The easiest way to find diamonds is to mine ores that have a yellow glow to them. Please note that such ores might or might not drop diamonds since it's a coin flip. You can also collect diamonds from Dondons. Well, for this quest, you need to collect three diamonds. Check out this comprehensive guide to learn the location of the Dondons to farm diamonds.
How to obtain the Great Eagle Bow – Final Step
Once you've acquired all the products, make sure to bring them back to Teba in Rito Village. Talk to him, and he will give you the Great Eagle Bow. The neat aspect of this is that if the Great Eagle Bow breaks, you can bring the mentioned materials to Teba, and he will construct another Great Eagle Bow for you. So essentially, you have an infinite supply of the Great Eagle Bow.
Well, if you enjoyed reading this article, consider following Android Gram for such content in the future.