Wondering when the next Age of Empires will release? Well, it's a bit too soon to wait for the day. Microsoft released the latest installment in the series just a month back, and the game has managed to gather sufficient attention. Although some called it "Age of Empires II with a makeover", Age of Empires IV was enough to make true fans of the series really happy. However, the release of Age of Empires IV triggered questions about the release of Age of Empires 5 (V) among die-hard fans. Should we anticipate its release at this moment? Read this article to know more.
For peeps wondering, Age of Empires is a popular real-time strategy video game series based on history. Its latest installment, Age of Empires IV, was released on October 28, 2021. You can buy and play the game via Steam or Microsoft Store. We did want a console version for this one. However, the developers decided to keep it restricted to the PC platform. Because the game is published by Xbox Game Studios, fans expected the release of Age of Empires IV on Xbox Consoles – Xbox One and Xbox Series X|S. So, can we expect a console version in the future? According to a tweet by Klobrille, here's what Adam Isgreen, Creative Director World's Edge (developers), had to say –
As soon as we finish managing the game's PC release, we'll start thinking about how to make the game run on consoles. We don't have any final plans yet, but now we're really going to start thinking about it.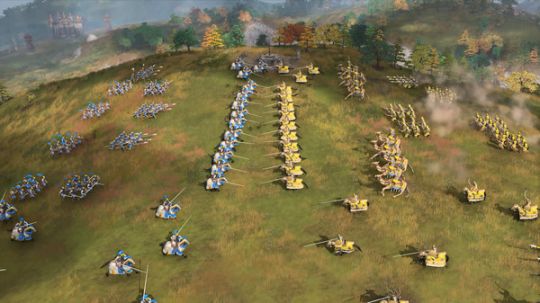 Age of Empires 5 (V) Release Date Prediction for PC, Xbox Series X/S, Xbox One, PS4 & PS5
So, we are probably going to see the first console release of Age of Empires in the upcoming years. If Age of Empires IV gets a console release, we can expect a console release for its forthcoming sequels. However, a PS5 or PS4 release is a bit far-fetched as of now. All being said, we still do not know whether there will be an Age of Empires 5 (V). If predicted from trends, it is almost a decade away from now. Age of Empires III was released in 2005. However, it was released as a Definitive Edition recently (2020) along with Age of Empires I and II. The Definitive Editions feature much improved visuals, a remastered soundtrack, two new game modes, and two new civilizations.
In conclusion, we will probably not see a release of Age of Empires 5 (V) now. But, it is entirely possible that the developers break their trend and introduce a newer installment sooner. Age of Empires IV has just been released, and it will continue to get expansions and probably, an improved edition too. However, since Age of Empires IV is anticipating a console release, we may see a console edition of Age of Empires 5 (V) at or near launch. But, a PS4 or PS5 release may not happen. We will have to wait and see!