Facing the error code 'clock' in Apex Legends? Well, it's a particularly difficult error to debug. According to most user reports, the error 'clock' seems to be a server issue on EA or Respawn's side. Although there are a few workarounds that users claim to have worked for them, many have shared that the issue seems to solve itself after a while. Nevertheless, we will help you troubleshoot the error code 'clock' in Apex Legends in this article.
As you may already know, Apex Legends is one of the most popular hero-based shooter titles of all time. It's natural that a huge part of the player base regularly logs into the game to play. Being a competitive game, Apex Legends features a ranking system for players. As players win matches and secure a good KDA at the end of each match, they receive ranked points or RP. Players stack RP to climb to the top of the ranked ladder. Now, the error code 'clock' has reportedly blocked players from entering a match for days. Such a restriction has annoyed a lot of fans, as they are unable to continue ranking up. In Apex Legends Ranked, players need to maintain steady stats. Missing out on playing the game for days can hurt a player's ranking-up process. Not only this, but this is also outrageous for casual players who want to simply play the game for fun.
What is the error code 'clock'?
Here's how a user described code 'clock':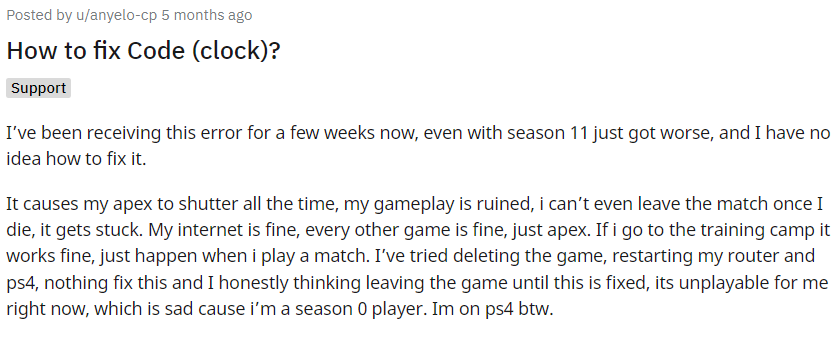 As a part of the code 'clock', you may face stuttering in Apex. In addition to that, the game may randomly freeze and you will not be able to leave the match or do anything, except close the game. While some have reported facing the error in-game, others have run into 'clock' while trying to start a match. As mentioned before, there are a few workarounds that could help, but these haven't worked for most of the affected crowd. However, there's no harm in trying!
How to fix the error code 'clock' in Apex Legends?
One Reddit user suggested changing the servers a couple of times. This has reportedly helped a lot of players overcome the error code. However, the other half of the crowd who tried this workaround reported unsatisfactory outcomes. So, it cannot be regarded as foolproof. But, we still recommend you to try it out.
None of the other user-suggested workarounds are worth mentioning. However, as a part of the basic troubleshooting process, we recommend you check your internet connection's speed and stability. We also recommend completing any pending updates available for Apex Legends. Performing a reinstall of the game may also be a useful option. If everything seems fine, it is most probably an issue on Respawn or EA's end. Many players have reported that the issue fixed itself after a couple of days. Yes, it could be regarded as another instance of Respawn's annoying inability to maintain the game's functioning! But there's nothing that can be done except spamming EA's Support chat. To that we say, go ahead!