Want to boost FPS while playing a game on high native resolution? Well, if you are using an AMD GPU, you can now take advantage of the versatile Radeon Super Resolution feature, also known as RSR. Radeon Super Resolution is similar to the more-established FidelityFX Super Resolution (FSR), but there is one profound difference. FSR's implementation is done internally (in-game), meaning it depends on whether the developers add FSR support to a game. However, RSR is an in-driver upscaling feature that lets you enjoy high-quality visuals and FPS, regardless of what the game supports. There are some restrictions though; we will talk about everything you need to know about RSR in this article.
Before you can reap RSR's benefits, you will need to enable it from Radeon (software). Note that Radeon Super Resolution doesn't support NVIDIA graphics cards yet. Here are the system requirements for Radeon Super Resolution:
– Microsoft Windows 10 or 11 64-bit (OS) 
– AMD Radeon RX 5000 Series Graphics and newer (GPU)
So, Radeon Super Resolution works like NVIDIA's DLSS, but for AMD rDNA cards only.
How to enable and use AMD Radeon Super Resolution for high FPS?
Boosting FPS and gaining the utmost graphics quality hasn't been easier for AMD rDNA card owners! With the newest graphics upscaling feature for AMD cards entering the market, NVIDIA now has some tough competition to face. Users are extremely happy with the performance of RSR, even though it's a new release and has a long road ahead. RSR requires you to lower the resolution in-game so that it can automatically upscale the resolution with its algorithm and provide you with better in-game performance. To get the highest FPS value, you will need to lower the in-game resolution and let RSR upscale it. If you set the in-game resolution to native with RSR enabled, it will boost graphics quality but FPS may suffer.
To enable AMD Radeon Super Resolution, you'll have to first download the AMD Software: Adrenalin Edition  22.3.1. Head over here for an installation link.
Once you have downloaded the required software, open it and click on the gear icon [top-right] to open up settings. Next, navigate to the Graphics tab. Here, you will see a toggle for AMD Radeon Super Resolution. If you don't see one, you either have an outdated Radeon software (update) or an ineligible AMD card.
Enable the toggle for AMD Radeon Super Resolution.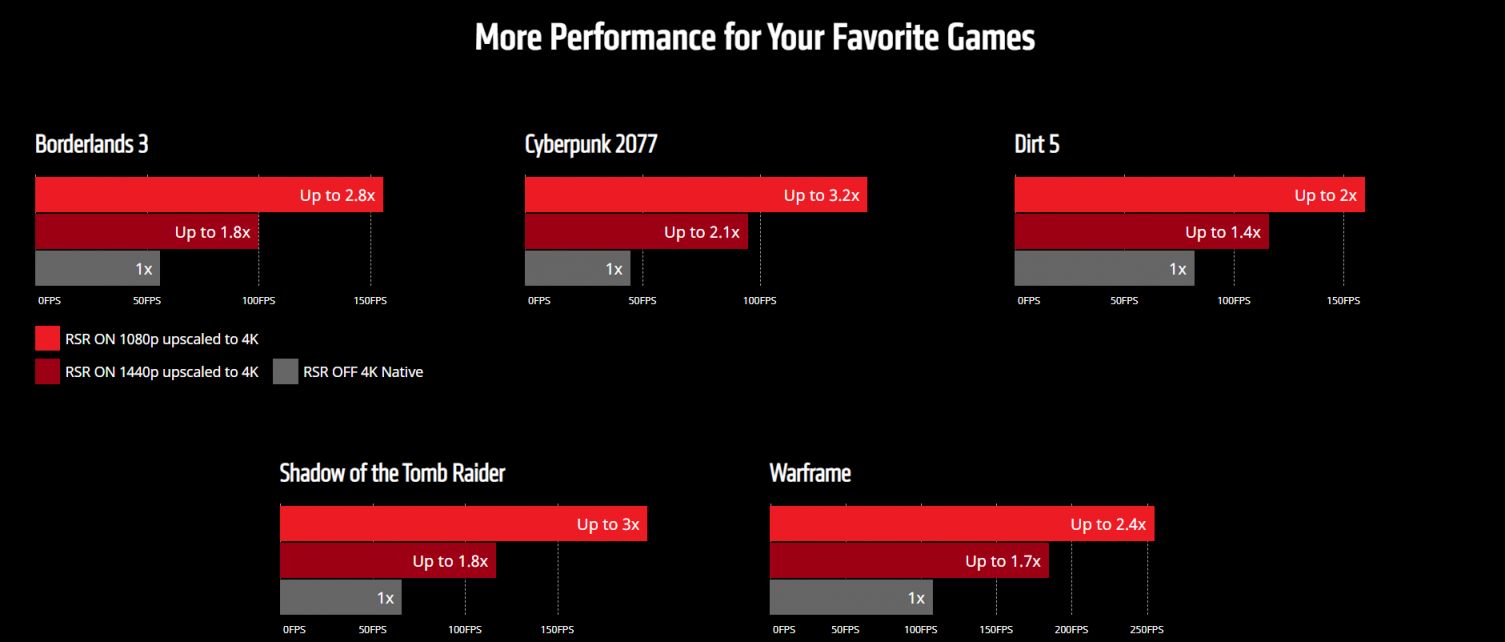 Once you enable RSR from the software, launch the game you wish to play. Head over to the in-game settings and then to the 'Video' or 'Graphics' settings. If the game supports FSR (FidelityFX Super Resolution), turn it off from the in-game video/graphics settings to avoid interference. Also, set the game's display mode to 'full-screen' as RSR can only work when the game is running in full-screen. Next, find the option to lower the in-game resolution– set it to one/two values lesser than your native monitor resolution. For example, if your monitor supports a maximum of 1080p, you will have to lower the resolution to 720p or less. Or, if you have a 4K monitor, set the resolution to 1440p.
Once done, press Alt+R keys to bring up AMD's overlay and check whether RSR is activated. You can now return to the game and check its performance!
A few things to note:
– Higher Resolution = Better Visual Quality, Lower Resolution = More FPS. Make sure your game is running on full-screen, if possible.
– If the game supports 'borderless full-screen' mode only, you will have to lower your monitor's resolution from Windows settings for Radeon Super Resolution to work.
– RSR will work with ray-tracing too!
– Make sure to disable FSR, as it will interfere with RSR's working.
For more such guides, stay tuned to Androidgram!