Taming in ARK Survival refers to the process of capturing magnificent creatures and feeding them their favorites before you call them your own. Well, it's not so easy always! Although some of them are non-violent, many dinos of ARK will need an arrow to the knee or preferably to the head [knockdown] to start the process of taming. You will almost always need a Wooden club and a slingshot to tame violent small creatures. For extremely ferocious ones, keep crossbows and longneck rifles handy. In this article, we have compiled a list of the top ten hardest creatures to tame in ARK Survival Evolved.
Also read The List of PS games Announced so far
1) Astrocetus
Despite its normally docile persona, it is quite territorial when approached and will attack the player. Because of its unique ability to warp through hyperspace, the Astrocetus is considered a high-tier tame. When spotted, the Astrocetus will reportedly remain motionless for about 2 seconds and then begin to move slowly, moving its fins up and down like a modern whale.
2) Shadowmane
Shadowmane travels alone or in groups of up to three. They can form packs with other Shadowmane if they are close enough together, but the highest level male will always be the pack's alpha. Shadowmanes are tamed non-violently rather than violently, prompting the player to consider alternative methods of taming the creature. Well, you basically need to feed a lonely Shadowmane a fish basket while it's sleeping. Does sound easy, but it isn't.
3) The Reaper
Reapers cannot be tamed by breeding. A player must be impregnated by a Reaper Queen in order to obtain a tamed Reaper. To do so, players will have to locate a Queen, once discovered, the Queen must be weakened by a chargelight. When she has sufficiently bloodied herself, she will begin emitting a glowing pheromone cloud of reddish-pink gas, indicating that she is ready to impregnate.
4) Troodon
Troodons employs a distinct flavor of passive Taming. Instead of putting a Food item in your final Inventory Slot, you must let the Troodon kill your tames. Troodons gain Taming Affinity by gaining Combat Experience; however, taming Affinity will be credited to a player only if the creature killed belonged to you or your tribe.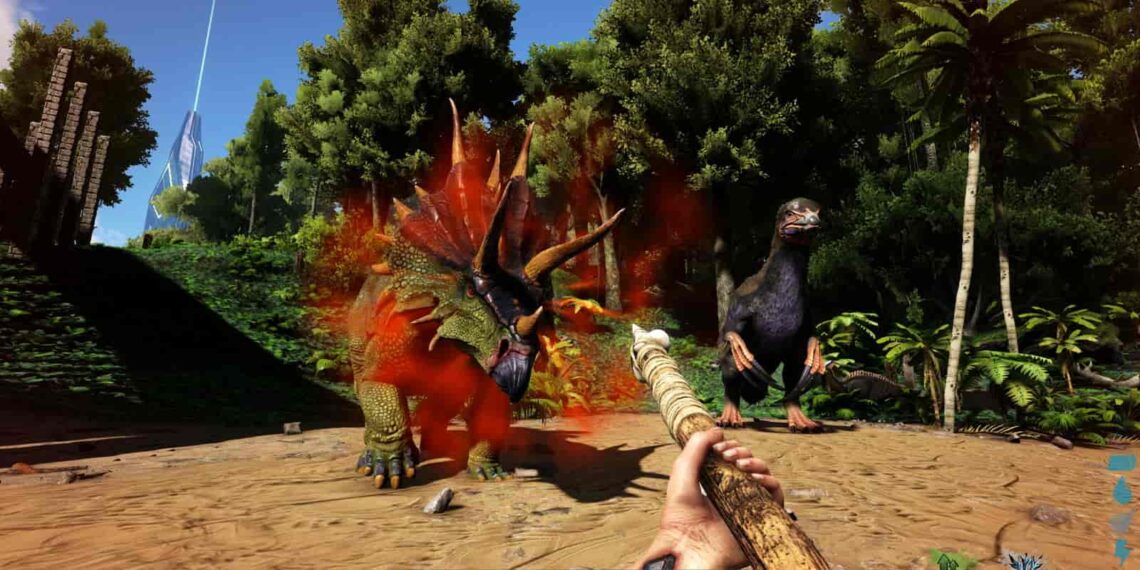 5) Voidwyrm
The Voidwyrm behaves similarly to a regular Wyvern. It usually flies around and attacks the players when insight using its electric breath. When forces are tamed, the 50% taming bonus is applied twice, resulting in a 2.25x level multiplier.
6) Megachelon
The Megachelon is a multi-legged, four-eyed turtle with nearly human-like facial features. It must be passively tamed using a unique mechanic. Players must first locate a Parakeet Fish School, which is commonly found in deeper depths. Bring the school slowly to the Megachelon and begin the taming process.
7) Noglin
Just like the Troodon, players must offer their tames to the Noglin. They unlike Troodon mind-control the creatures. This is, however, very inconsistent and can take a long time at times. Although knocking them out can reset them and increase their likelihood of doing so.
8) Ice Titan
The Ice Titan can be tamed by attacking the corruption nodes on its right ankle, right shoulder, and chest in the correct order. After the corruption has been eliminated, the Ice Titan can be tamed by interacting with it, and it will come with a special Platform Saddle.
9) Titanosaur
The Titanosaur cannot be tamed with food or drugs. To defeat one of the largest creatures of  ARK Survival Evolved, players have to use weapons like Catapult Turret, Ballista Turret, Rocket Turret, or Cannon. After a long struggle when it becomes unconscious, you can finally tame it by putting a saddle on it.
10) Phoenix
To tame the Phoenix, it must be struck with flaming weapons. When hit the taming bar rises slightly. It takes a long time to tame it, but if it is not completed before the Heat Wave ends, the Phoenix will disintegrate into a pile of ashes. This makes Phoenix one of the hardest creatures in the ARK Survival Evolved to tame.