Problem with launching Battlefield 2042? Does the error message indicate a problem with your game setup? If yes, you are at the right place for a helpful list of fixes and workarounds. Don't waste your precious open beta time, and try these troubleshooting techniques now!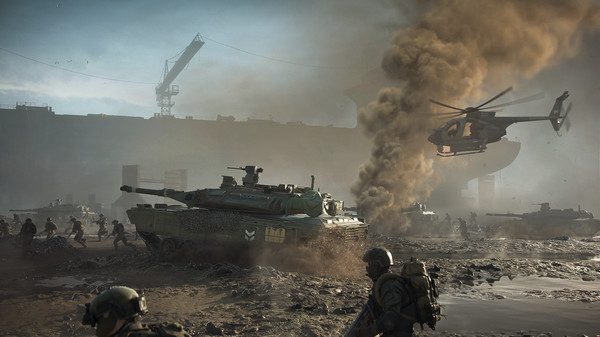 "There is a problem with your game setup" error in Battlefield 2042
Sit back tight with your PC, as this is going to be a long troubleshooting session. Here's what you can do to solve the game setup error.
Install the latest version of Microsoft Visual Runtime Libraries
Many setup errors in video games happen due to inconsistent Visual C++ Redistributables. To solve it, download the latest ones for your system from this link. Make sure you choose the correct download link according to your system's architecture (x86, x64, or ARM). This step has solved the "There is a problem with your game setup" error for many Battlefield 2042 players.
Install Apex Legends, then close the game & then try to launch Battlefield 2042
This is a rather unconventional workaround but has worked for some. Do as the title says: Download Apex Legends, launch Apex Legends, and close the game. Next, launch Battlefield 2042.
If you are using NVIDIA graphics, you will have to do something extra. Open the NVIDIA control panel, then go to Manage 3D Setting > Program Setting > Click on Add button > Click on Browse. Find the Apex Legends directory and select Apex Legend. Then, launch Battlefield 2042.
Also read: Battlefield (BF) 2042 Beta Unknown Error: How to fix it?
Download the latest DirectX version
You can download the latest version of DirectX from here.
Troubleshoot problems related to Easy Anti-Cheat
First, run the Easy Anti-Cheat installer on its own. To do so:
Open the game installation folder for Battlefield 2042 (at C:\Program Files (x86)\Origin games\Battlefield2042)

Find the EasyAntiCheat folder inside the folder and open it.
Right-click on EasyAntiCheat_setup and choose Run as administrator.
Choose your game from the dropdown menu, then click Repair Service.

When the installation finishes, launch your game again.

If it's still broken, right-click on the game tile in My Game Library and choose Repair.
If you encounter a launch error after performing the above or randomly, you can do the following:
Update your graphics driver: You can do so from the GeForce Experience app.

Check your Antivirus program: Anti-viruses block malicious programs. But sometimes, it may block some useful programs as well. Disable your anti-virus and try launching the game. If it runs, that might be it. Add Easy Anti-Cheat to the allow-list of your anti-virus program. This should solve the issue.

Check whether an Epic Games application or launcher is running in the background: If you encounter an error "An application using Easy Anti-Cheat is already running! (STOP_PENDING)", it is probably because you have an Epic game or launcher running in the background. That will interfere with Easy Anti-Cheat. Make sure you close all Epic applications and try re-launching the game.
Try verifying the integrity of game files on Steam or Origin
You can do so by opening Steam library > Right-click on Battlefield 2042 > Properties > Local Files tab. Then, click on Verify integrity of game files… option. For Origin, select the My Games in Origin and right-click on the game (Battlefield 2042). Then, select "Repair Game."
Hope Battlefield 2042 is not throwing any error for you now. Happy shooting!