Call of Duty is a game that needs heavy graphics support. Therefore, it's only natural to get a memory error if the game has a bug or is not appropriately optimized. Users are now frustrated about the Memory Error with code 19-181. There are memory errors with other codes too. If you are getting a Memory Error with code 19: 1973, head over to this page to learn how to troubleshoot it.
All memory errors have more or less the exact cause but may be related to the saturation of different file locations on your system. Hence, the codes are different. If you play Call of Duty and are troubled with memory error 19-181, we are here to help. Keep reading this article.
Call of Duty Memory Error 19-181 in Modern Warefare and Warzone
Users are fed up with the new memory error since Season 4 update. The error seems to crop up after 3-5 hours of playing the game on an average. Popping error messages can hamper the gaming experience majorly especially when Call of Duty is a game that requires you to be on your toes all the time.
Loads of posts and comments on the official Warzone page on Reddit show how frustrated fans are. RavenSoftware, the game's developers, have not yet acknowledged the issue. However, we are hoping that further optimizations with future patches will fix this problem.
Also, it might be a long wait till the patch is released. What to do until then? We are listing a few troubleshooting techniques which you can try.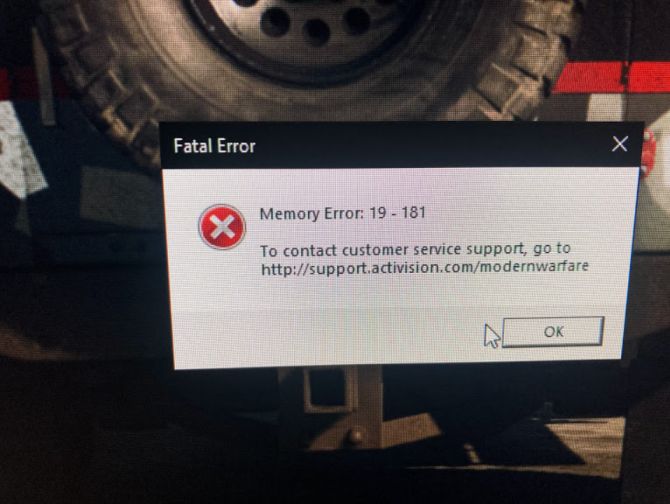 Technique 1:
First, consider a complete disk cleanup in your system. You should then clean the drive containing the game Call of Duty. In most cases, it is the C: drive. Clean all unwanted files like windows update caches, temporary files, Direct X cache files, etc. Keep your downloads folder or any other files which you use; it won't be a problem. Then, change your virtual memory back to system managed on the C: drive. Reboot your device.
Technique 2:
Try switching to low graphics and high frame rate mode if you are on higher graphics settings. Disable the NVIDIA DLSS from graphics settings if you have that enabled. Restart the game.
The above techniques are not official tricks and may not work for all users.
Be it an Intel or an AMD processor, the error is happening irrespective of hardware specification. It seems to be an optimization issue, and RavenSoftware should look into the issues faced by Call of Duty Warzone and Modern Warfare fans. We would suggest players report any problems through the in-game report system or report it through this link for Modern Warfare or this link for Warzone.