Wondering when the next Chivalry title will release? Well, you are looking for premature answers. Chivalry 2, the series' latest installment was just released a little less than 9 months ago. Such popular titles don't get sequels often. And Chivalry 2 has been a major hit! The developers have also promised to release content updates for the game from time to time. So, what's the hurry for Chivalry 3? Apparently, fans love querying regarding upcoming titles!
The Chivalry series isn't for the soft-hearted! Both Chivalry: Medieval Warfare and Chivalry 2 upheld the series' selling point: satisfying slashing. If you are a fan of melee slashers, you will find yourself spending hours on Chivalry 2 and even its much-old prequel. The latest installment in the series was released on June 8, 2021, and is playable on PC, Xbox Series X|S, Xbox One, PS5, and PS4. Additionally, Chivalry 2 is an Epic Games Store exclusive [for PC] as of now. However, the developers are planning to release the game on Steam as well. But it is definitely not happening until June 2022. Taking the upcoming Steam release and content updates stated on the road map into consideration, Chivalry 3 seems at least half a decade away from now!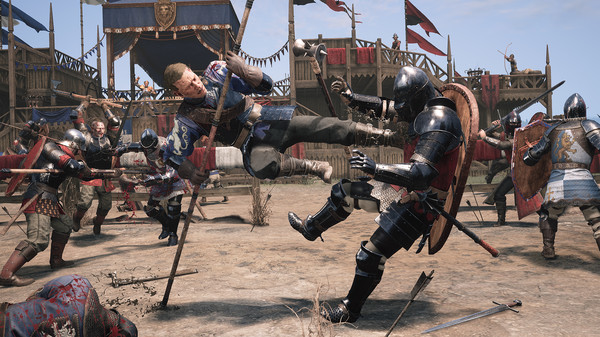 When will Chivalry 3 release?
If you are expecting a prediction of us, you are at the right place! However, we recommend you take such information with a grain of salt, as nothing about the release date of Chivalry 3 is officially confirmed. Chivalry 3 is definitely at least five-six years away from us now. The release gap between Chivalry 2 and Chivalry: Medieval Warfare is nine years. Considering this gap of nine years alone, Chivalry 3 could potentially release in 2030. However, it could happen before or later than 2030 as well.
Also Read: How to invite friends & play multiplayer in Chivalry 2(2022)?
Chivalry 2 is expecting a content update soon, which will include the much-requested cross-play parties. The developers have been very active on forums and social media. Tom Banner Studios consists of a small team but has managed to tackle player feedback really well. They also maintain a detailed road map on Trello, for fans to keep track of what's upcoming in Chivalry 2. Since its release in June 2021, Chivalry 2 underwent a lot of improvements, including new maps and weapons, user interface improvements, bug fixes, and more. Considering the success of the latest Chivalry title, the developers will most likely focus on its well-being and betterment, rather than building a new title.
Stay tuned to Androidgram for more updates regarding Chivalry 2 and more video games!