The OG first-person shooter, which served as a source of inspiration for many modern shooter games, may run into issues when players try to team up. Counter-Strike: Global Offensive, more commonly known as CS:GO, is a popular multiplayer video game developed and published by Valve. It was released in 2012, and still serves thousands of active players across the world every day. Well, as time passes, we will see a lot of new-age shooter games. But most shooter game fans feel that there will never be a match for CS:GO's superiority. Valve has also tried keeping things fresh by deploying content updates, user interface improvements, regular bug fixes, and more. As a result, CS:GO stands strong even after ten years of release! However, the game is not immune to problems.
Players have reported running into issues with matchmaking in CS:GO over the years. As you may already know, this issue may occur due to a lot of reasons. If you are unable to invite a friend to join your team, it is most likely a bug. Players have also reported not receiving team invites at times. Minor bugs like these plague most multiplayer games. However, it can quickly become very frustrating if the issue persists for a longer time. If you are unable to send a request, receive a request, or cannot access the friend list, restart your game. If it's a minor bug, a simple restart can kick things into place. But if you are still unable to start a multiplayer game or invite friends, it may be something that requires extensive troubleshooting. Follow along the next section of this article to solve the problem!
How to fix CS:GO multiplayer not working in 2022?
Quarter 1 of 2022 is about to end, but fluctuating ping will continue troubling players till the end of time. Video games like CS:GO require stable internet ping to facilitate an online multiplayer match. So, if you suffer from bad ping stability, it is likely the cause of CS:GO's multiplayer not working for you. To fix this, try power-cycling your router and modem: wait for a couple of minutes before restarting the devices. In the meantime, also restart your computer. Try reconnecting your PC to the wireless network after the power cycles are complete. Now, check whether the issue persists.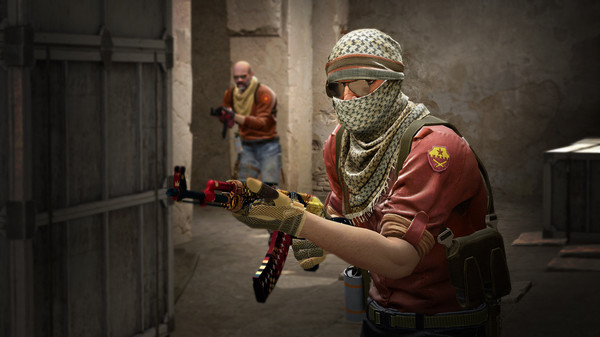 Another strong workaround would be to use a direct/wired internet connection instead of WiFi. Wired connections are proven to be much more stable than wireless connections. If this doesn't work, the issue could be caused by file corruption. To fix a corrupted game file, disable third-party anti-virus programs and verify the integrity of CS:GO's files. Firstly, disable any kind of firewall or anti-virus programs, close CS:GO, and open
Steam
. In the Library, right-click on CS:GO, navigate to
Properties > Local Files tab
, and select
Verify integrity of game files…
option. Let the process of verification complete, before trying to launch the game again.
Other Workarounds
Make sure to complete pending updates to the game or the OS. Updates usually target and resolve bugs, glitches, and other issues. Delaying essential updates can cause unknown errors in the game. You could also try clean installing CS:GO. Uninstall the game from the Apps list and install it again from Steam.
If reinstalling the game also fails to fix the problem, consider visiting Valve's website or social media handles for a server maintenance update. As you may already know, server outages/bottlenecks or maintenances can cause CS:GO to not work as it is meant to be. In such cases, waiting for an official solution or until the maintenance is complete are the only workarounds that could help. For more updates on CS:GO and other video games, stay tuned to us!