Deep Rock Galactic is a squad-based shooter with a plethora of collectibles. But, none of those collectibles are as confusing as the Error Cube. The game's most valuable resource, Error Cubes – also known as ERR://23¤Y%/ – is a complete mystery. Many players appear to be perplexed by this strange item, as they are unaware of its benefits. It's difficult to keep track of hundreds of in-game items, so we're here to assist. We'll go over what Error Cubes are exactly and how much they're worth – in our Deep Rock Galactic tutorial.
In Deep Rock Galactic, Error Cubes are uncommon artifacts that provide you a large XP bonus (4000 XP) at the conclusion of each level. As a result, they are the game's most precious "mineral". Bittergem, on the other hand, has a 1/21 chance of appearing and awards between 1,000 and 1,500 XP.
The Appearance of Deep Rock Galactic Error Cube
Error Cubes appear as little black and white cubes with white grooves, similar to an all-black Rubik's Cube. They are technically a mineral since they must be mined from ore deposits. Spiky grey rock formations with pink auras characterize these deposits. The glowing rock will fade to a regular grey after mining such an outcropping and grabbing the Error Cube.
Where to Find Deep Rock Galactic Error Cube
Error Cubes are extremely rare, with just a 1/26 chance of occurring in any given level, and they may be discovered in any planetary location and mission type. Of course, just because an Error Cube exists in a level doesn't guarantee that you'll locate it, making it look much more unusual.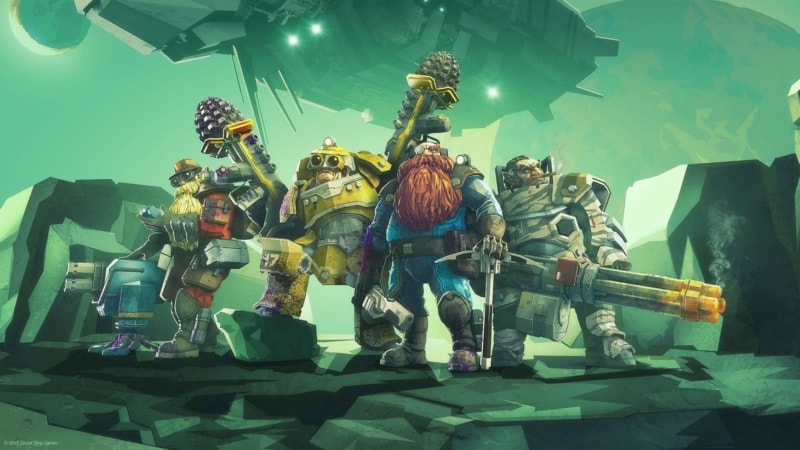 Error Cube uses
Error Cubes currently have just two uses: they give a huge XP boost at the end of levels and they contribute towards the "What Are These Things?" trophy, which requires you to discover five of them. Such a big XP reward makes it useful for fast leveling up, as well as acting as an indirect benefit for weapon unlocks. The Error Cubes may be lore-important in Deep Rock Galactic, according to Ghost Ship Games, though they haven't explained why. It's said to come from the same place as ERR:/19 percent T#/, or the Error Helix. Helix is a rare structure found exclusively in the Radioactive Exclusion Zone, which looks probable but hasn't been proved.
Trivia
1) The Error Cube is referred to as a "Precursor Artifact" in the game files.
2) There's a possibility the dwarf will mention the Error Cubes and their function after drinking Smart Stout before the impact wears off and they forget the notion.
3) The Error Cube is mentioned in one of the random messages that might display on the Employee of the Month Screen.