It's the ethereal power that hits you most! Beings who possess such power should be cautious. As ethereal power is short-lived, it should fall into the hands of beings who know how to draw the unimaginable power diligently.
The new season of Diablo 3 is just ahead of us, and fans are excited. The theme of this season is based on old memories of Diablo 2. Season 24 of Diablo 3 brings in 21 iconic weapons of Diablo 2 fame, all as a part of a celebration for Diablo 2: Resurrected scheduled to release in September 2021.
As our beloved, the Nephalem, you will yield the ethereal weapons of the past. Get ready for the battle of your lives as darkness tries to engulf humans and angels. You are the only one who can stop this!
Diablo 3 Season 24 Release Date
The new season of Diablo 3 will release on 23 July 2021. The patch to Diablo 3 is going to release three days earlier i.e. on 20 July 2021.
Here's something else to be excited about. Players who pre-book Diablo 2: Resurrected before its release in September 2021 are in for a treat! You will receive a gift in the form of the Heritage of Arreat transmog, the Diablo 2-themed Barbarian transmog set, in Diablo 3 on July 20 once Patch 2.7.1 goes live.
If you are a console player, here's good news for you too. Pre-order the Diablo Prime Evil Collection on Xbox or PlayStation, and you will immediately unlock the Mephisto pet and the Hatred's Grasp wings with the release of Patch 2.7.1.
Seasonal Rewards
It is nice to have some reward waiting for you at the end of a journey! Diablo 3 has introduced End of Journey rewards since Season 17, and Season 24 is no exception. In addition to a few memories making a return from Season 12, there is something awesome waiting for you at the end of the Season 24 journey. So, complete the Season 24 Guardian Journey and earn the Terror Resurrected Portrait and the Lesser Mummy Pet.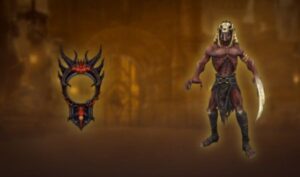 Seasonal Quests
Few quests are making their return in the game in Season 24.
Boss Mode and World's Apart: Love fast gameplay? Kill the bosses at max level on Torment X within 20 minutes.
On A Good Day and I Can't Stop: Love leveling up legendary gems? These quests require you to level three legendary gems to Level 65.
Curses! and Stars Align: Love killing in huge numbers? These quests require you to kill 350 or more monsters at level 70 on Torment X difficulty in a Cursed Chest event.
The Thrill and Super Human: These quests will test your ability to play the game without Set Items. They require you to complete a Greater Rift 45 Solo without the use of any Set Items.
Years of War and Dynasty: Want to show off your expertise in various class sets? Reach Greater Rift Level 55 Solo with the full bonuses of six class sets to complete these quests.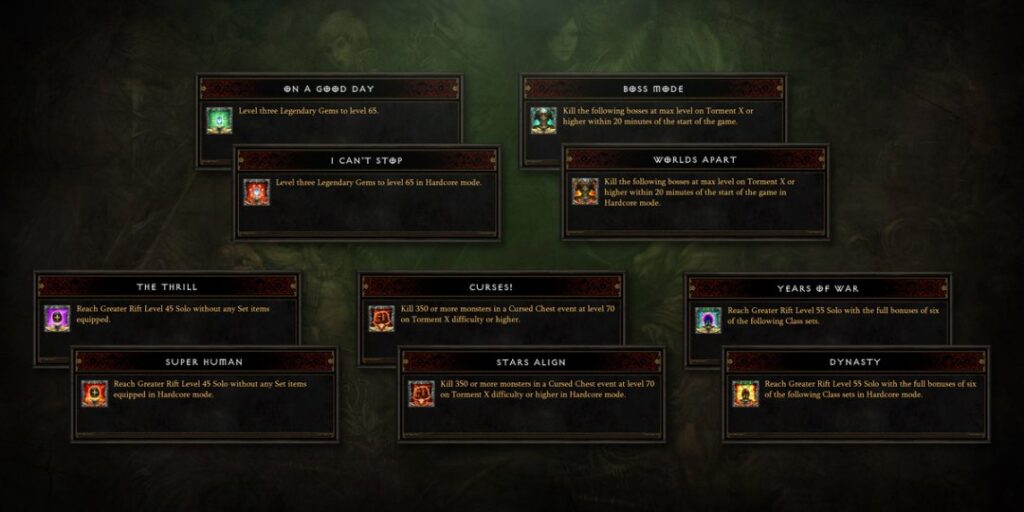 Patch Notes for Season 24 of Diablo 3
Seasons
With Season 24 of Diablo 3 all set to release, the patch has brought in fond memories of Diablo 2. In addition to all those elements, something new based on the theme has entered the game. Ethereals are the new weapon type that players will be looking for and yielding in battles. They will come with two attachments, a random Class Weapon Legendary Power and a random Class Passive Power.
These weapons will have special icons, names, item types, and sounds previously experienced in Diablo II.
Ethereals are account bound and can only be dropped by monsters, chests, and destructibles, but do not require your character to be level 70 to drop. Ethereals cannot be acquired through Kanai's Cube or from Kadala.

Ethereal rarity drop rate is set between Ancient and Primal items.

There are 3 unique Ethereals per class. Each Ethereal has fixed affixes and rolls one random Legendary Weapon power and one random Class Passive Skill.

You can equip only one ethereal at a time.

Ethereals ignore item durability loss.

Legendary Powers and Class Passive Skills rolled on Ethereals do not stack with the same power equipped through Kanai's Cube, Items or Skills.

Ethereals cannot be Enchanted, Transmogrified, Dyed, Reforged, or traded.

Ethereals can be augmented.

Collecting all 21 Ethereals during Season 24 will reward players with the Feat of Strength, Ethereal Recollection. Players who accomplish this will have all Ethereal transmogrify options available for future seasonal and non-seasonal play.

Ethereals only drop in Seasonal play, and will not transfer to your non-seasonal character when the season ends.
Items
General

Monk | Skill Change:

Mystic Ally – Fire Ally: Now splits into 2 splits instead of 5, but now all Fire Allies can split. Damage radius slightly increased and damage increased from 480% to 1920% weapon damage.
Mystic Ally – Fire Ally: Improved Fire Ally AI so Allies now explode more consistently.
Mystic Ally – Earth Ally: Damage increased from 380% to 4500% weapon damage.
Rabid Strike: Spirit spenders that teleport you while Epiphany is active are also mimicked on a nearby target with 350-450% increased damage for free.

Wizard | Skill Change:

Mirror Image: ​Mirror Image icon now displays a counter to display how many Mirror Images are active.

Item Changes

Inna's Mantra 4-Piece Set: Gain the base effect of all four Mantras at all times. You gain 5% damage reduction for each Mystic Ally you have out. Your Mystic Allies no longer take damage.
Inna's Mantra 6-Piece Set: Gain the passive abilities of the five runed Mystic Allies at all times. Attacking enemies creates your chosen Mystic Ally that lasts 15 seconds, up to 10 Mystic Allies. The damage of your Mystic Allies is increased by 3000% for each Mystic Ally you have out.
The Crudest Boots: Mystic Ally summons two Mystic Allies that fight by your side. They deal 150% to 200% increased damage and are able to attack with their active forms longer.
Bindings of the Lesser Gods: Enemies hit by your Cyclone Strike take 150% to 200% increased damage from your Mystic Ally for 5 seconds. Split Fire Allies gain 5 times this bonus.

Aegis of Valor 2-Piece Set: Attacking with Fists of the Heavens empowers you, allowing Heaven's Fury to deal 125% increased damage for 5 seconds. Stacks up to 3 times.
Masquerade of the Burning Carnival 6-Piece Set: Bone Spear cast by you and your Simulacrums deals 6000% increased damage.
Bug Fixes
Monk Fixes

All Mystic Allies and their abilities now benefit from +Mystic Ally Damage.

Fixed a bug where Shenlong's Spirit 2pc bonus did not trigger consistently while casting Tempest Rush.

Witch Doctor Ethereal Fix | The Gidbinn

 +200% to all Voodoo skills now properly benefits Fetish Sycophants.
For complete information on the patch and the new season, visit this page.