The Euro Truck Simulator is the European counterpart of the American Truck Simulator. Deliver cargo and packages across the extensive continent of Europe and get to hit the roads in massive trucks. With more than dozens of cities to explore, your endurance, skill, and speed will all be tested to their full potential. Being the popular American Truck Simulator's prequel, it is an even older game but still receives amazing DLCs. Fans cannot get enough of the game because of its simple interface and multiplayer options to enjoy with friends as well. We are listing all the DLCs available for Euro Truck Simulator till date. The list will be sorted according to the release date of the DLCs and their prices will also be listed. Keep reading the article to know more.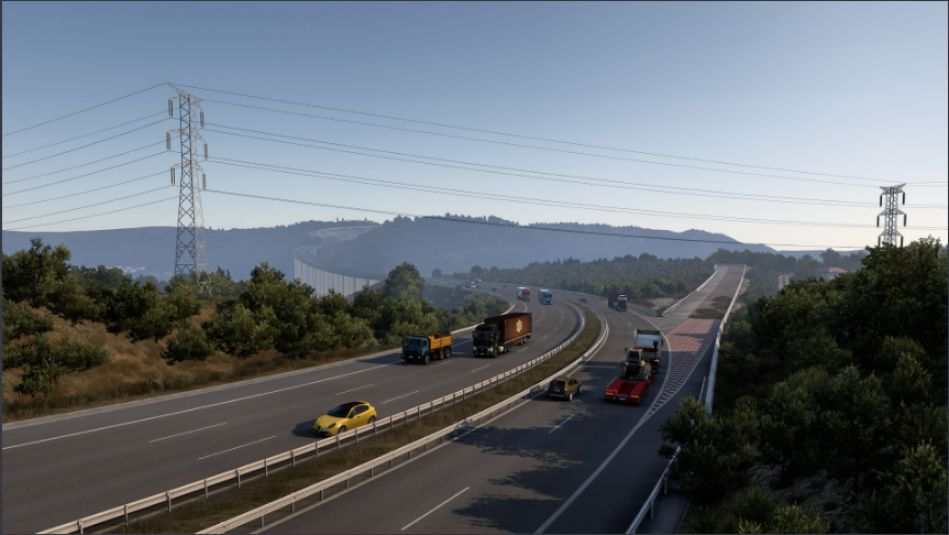 Euro Truck Simulator Expansion Packs & DLC List
Here's the list of DLCs available with Euro Truck Simulator.
| | | |
| --- | --- | --- |
| DLC/EXPANSION PACK NAME | RELEASE DATE | PRICE  |
| GOING EAST! | 20 September 2013 | $9.99 |
| HALLOWEEN PAINT JOBS PACK | 24 October 2013 | $1.99 |
| ICE COLD PAINT JOBS PACK | 10 December 2013 | $1.99 |
| FORCE OF NATURE PAINT JOBS PACK | 4 April 2014 | $1.99 |
| METALLIC PAINT JOBS PACK | 19 May 2014 | $1.99 |
| UK PAINT JOBS PACK | 20 May 2014 | $0.99 |
| IRISH PAINT JOBS PACK | 20 May 2014 | $0.99 |
| SCOTTISH PAINT JOBS PACK | 20 May 2014 | $0.99 |
| FLIP PAINT DESIGNS | 29 May 2014 | $1.99 |
| BRAZILLIAN PAINT JOBS PACK | 11 June 2014 | $0.99 |
| POLISH PAINT JOBS PACK | 1 July 2014 | $0.99 |
| CANADIAN PAINT JOBS PACK | 1 July 2014 | $0.99 |
| USA PAINT JOBS PACK | 3 July 2014 | $0.99 |
| FANTASY PAINT JOBS PACK | 15 July 2014 | $1.99 |
| HIGH POWER CARGO PACK | 14 August 2014 | $4.99 |
| GERMAN PAINT JOBS PACK | 1 October 2014 | $0.99 |
| FRENCH PAINT JOBS PACK | 10 October 2014 | $0.99 |
| CZECH PAINT JOBS PACK | 24 October 2014 | $0.99 |
| CHRISTMAS PAINT JOBS PACK | 3 December 2014 | $1.99 |
| RUSSIAN PAINT JOBS PACK | 23 March 2015 | $0.99 |
| VIKING LEGENDS  | 6 May 2015 | $1.99 |
| NORWEGIAN PAINT JOBS PACK | 6 May 2015 | $0.99 |
| SWEDISH PAINT JOBS PACK | 6 May 2015 | $0.99 |
| DANISH PAINT JOBS PACK | 6 May 2015 | $0.99 |
| SCANDINAVIA | 6 May 2015 | $17.99 |
| PREHISTORIC PAINT JOBS PACK | 28 July 2015 | $1.99 |
| CABIN ACCESSORIES | 30 September 2015 | $3.99 |
| JAPANESE PAINT JOBS PACK | 9 November 2015 | $0.99 |
| WHEEL TUNING PACK | 13 April 2016 | $2.99 |
| HUNGARIAN PAINT JOBS PACK | 16 April 2016 | $0.99 |
| TURKISH PAINT JOBS PACK | 19 April 2016 | $0.99 |
| ITALIAN PAINT JOBS PACK | 4 May 2016 | $0.99 |
| SLOVAK PAINT JOBS PACK | 4 May 2016 | $0.99 |
| SPANISH PAINT JOBS PACK | 1 June 2016 | $0.99 |
| NATIONAL WINDOW FLAGS | 8 June 2016 | $0.99 |
| CHINESE PAINT JOBS PACK | 21 June 2016 | $0.99 |
| SOUTH KOREAN PAINT JOBS PACK | 21 June 2016 | $0.99 |
| MIGHTY GRIFFIN TUNING PACK | 23 June 2016 | $3.99 |
| AUSTRIAN PAINT JOBS PACK | 15 July 2016 | $0.99 |
| SWISS PAINT JOBS PACK | 15 July 2016 | $0.99 |
| SCHWARZMULLER TRAILER PACK | 16 September 2016 | $2.99 |
| PIRATE PAINT JOBS PACK | 19 September 2016 | $1.99 |
| FINNISH PAINT JOBS PACK | 1 December 2016 | $0.99 |
| BELGIAN PAINT JOBS PACK | 1 December 2016 | $0.99 |
| VIVA LA FRANCE! | 5 December 2016 | $17.99 |
| DRAGON TRUCK DESIGN PACK | Until 15 January 2017 | NA |
| MICHELIN FAN PACK (PAINT JOBS) | 10 January 2017 | $2.99 |
| MICHELIN FAN PACK (ACCESSORIES) | 10 January 2017 | $2.99 |
| AUSTRALIAN PAINT JOBS PACK | 20 January 2017 | $0.99 |
| ROMANIAN PAINT JOBS PACK | 20 January 2017 | $0.99 |
| VALENTINE'S PAINT JOBS PACK | 10 February 2017 | $1.99 |
| RAVEN TRUCK DESIGN PACK |  7 March 2017 | $1.99 |
| HEAVY CARGO PACK AND TRAILER PACK | 12 May 2017 | $4.99 |
| XF TUNING PACK | 18 August 2017 | $3.99 |
| ITALIA | 5 December 2017 | $17.99 |
| SPECIAL TRANSPORT DLC | 13 December 2017 | $4.99 |
| PORTUGESE PAINT JOBS PACK | 8 June 2018 | $0.99 |
| DUTCH PAINT JOBS PACK | 26 July 2018 | $0.99 |
| SPACE PAINT JOBS PACK | 31 August 2018 | $1.99 |
| KRONE TRAILER PACK | 17 September 2018 | $3.99 |
| BEYOND THE BALTIC SEA | 29 November 2018 | $17.99 |
| ESTONIAN PAINT JOBS PACK | 29 November 2018 | $0.99 |
| LATVIAN PAINT JOBS PACK | 29 November 2018 | $0.99 |
| LITHUANIAN PAINT JOBS PACK | 29 November 2018 | $0.99 |
| GOODYEAR TYRES PACK | 2 August 2019 | $2.99 |
| ACTROS TUNING PACK | 4 September 2019 | $3.99 |
| PINK RIBBON CHARITY PACK | 1 October 2019 | $1.99 |
| ROAD TO THE BLACK SEA | 5 December 2019 | $17.99 |
| BULGARIAN PAINT JOBS PACK | 5 Dec 2019 | $0.99 |
| HS-SCHOCH TUNING PACK | 19 March 2020 | $1.99 |
| FH TUNING PACK | 2 June 2020 | $3.99 |
| SUPER STRIPES PAINT JOBS PACK | 17 September 2020 | $1.99 |
| LUNAR NEW YEAR PACK | 10 February 2021 | $1.99 |
| IBERIA | 8 April 2021 | $17.99 |
| HEART OF RUSSIA | TO BE ANNOUNCED | TO BE ANNOUNCED |