Want to locate and smash all fifty Fast Travel boards in the Forza Horizon map? Well, to complete the game fast, you must get your hands on free fast travel. The newest Forza Horizon has included the largest map among all the previous installments. It features a fictional map of Mexico – race alongside your friends across beaches, forests, cities, and towns. In addition to all the different racing events, adventure stories, and points of interest Forza Horizon 5 features, players can also collect two kinds of items – boards and barn finds.
By now, you may already know the value of smashing all the Fast Travel boards in Forza Horizon 5. There are a total of 250 boards all around the map, which you can break to get various rewards and bonuses. However, did you know that smashing all the available Fast Travel boards will get you the free fast travel feature? Without this, you will be required to pay 10000 credits each time you fast travel. Each Fast Travel board you smash will deduct 200 credits from the fast travel price tag – breaking all 50 will deduct 10000, which makes fast travel absolutely free. If you haven't unlocked fast travel in Forza Horizon 5 yet, follow this article for a detailed guide to unlock the much-needed feature. Unlocked fast travel already? Read this article to know the locations of all Fast Travel boards in Forza Horizon 5 – smash them all!
Forza Horizon (FH) 5 All Fast Travel Board locations list
As soon as you choose to view the board locations on the in-game map, you will be shown two kinds – XP and Fast Travel boards. Out of 250 boards, 200 of them are XP boards that help increase your game level. However, you are looking for the Fast Travel boards only. Look for the purple lightning symbol as shown on the map below to locate Fast Travel boards in Forza Horizon 5.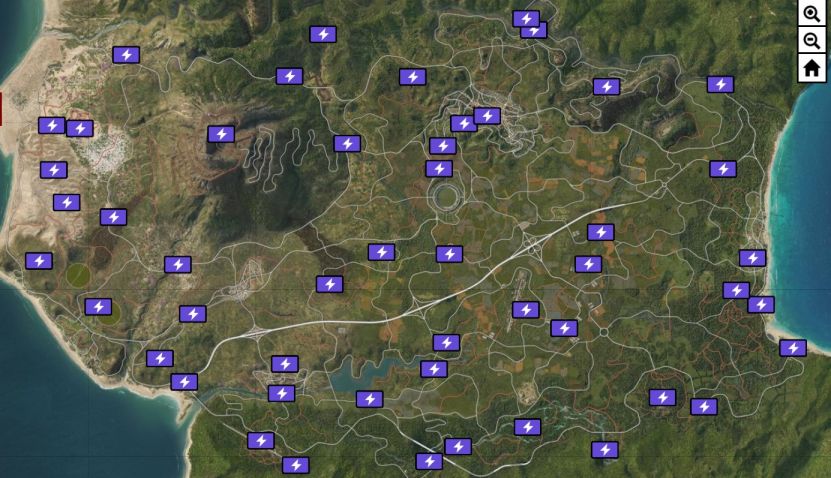 Alternatively, you can launch the game and zoom into the in-game map to look for Fast Travel board symbols. Fix destinations on the Fast Travel boards and travel to them to smash. Some boards will be difficult to reach while breaking others will be as easy as a breeze. When the boards are located on top of houses (2/50 boards), you will have to speed up from a distance and land on top of the houses (JUMP) to break those boards.
For more articles on Forza Horizon 5 and other video games, stay tuned to Androidgram!