A fun game of the runner genre is all set to receive its first update in years. Geometry Dash was released in 2013 for mobile devices and was available on PC since the early 2010s. It gained huge popularity due to its simple yet addictive experience. The game has no ads and is available for free. It is available on Android, Windows, Mac, iOS, and also on Windows Phones. Update 2.2 development plans were first teased in 2017. However, for some reason, the developers never released those modifications.
Want to know when Geometry Dash 2.2 is releasing? Read this article to know more.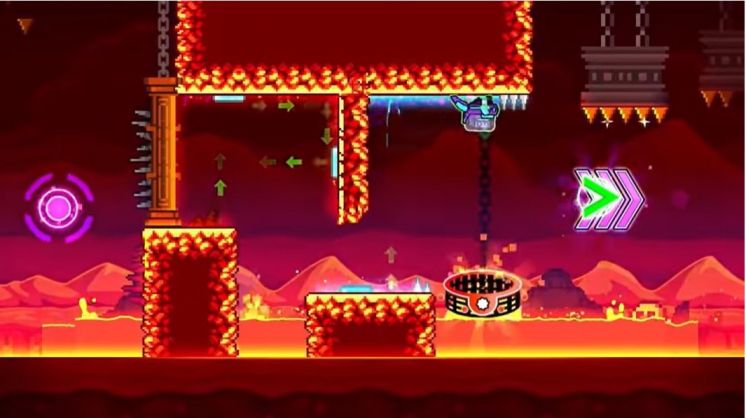 Geometry Dash 2.2: What's new?
RobTop's Geometry Dash is all set to receive its first update in four years. The last update was of version 2.1, which was released in 2017. The new update has a lot of exciting additions to the game.
Geometry Dash is a rhythm-based action platformer game. And, it is not an easy game to complete! With various challenging levels and sensitive obstacles, get ready to be anxious and have fun simultaneously. The background gives a feel of our evergreen Mario. Geometry Dash would have made a great arcade game for sure. However, the online game is very popular among video game fans.
— RobTop Games (@RobTopGames) August 16, 2021
Fans were eagerly waiting for a new update. A game like Geometry Dash would feel even better if it received periodic updates. Even with such a simple interface, the game has managed to pull in such good attention.
Update 2.2 will include all the modifications and additions that were teased from 2017. There will be an addition of a new level, a new platform mode, and maybe a story mode as well. From the teaser, we can make out that there will be a new icon heavily inspired by a Purple Among Us character, and there will be an incorporation of a change icon feature as well. You will also see a few new monsters in the game. Things teased in 2017, like random obstacle triggers, are also expected to come with this update. In addition to all this, a free-fly camera control will also be added. Have a look at the official teaser down below.
When will the new update release?
No official release date was announced with the teaser on Youtube. However, update 2.2 of Geometry Dash will be released soon. There's also a Geometry Dash fan page on Twitter. The page had jokingly remarked this in a tweet.
Geometry dash 2.2 is going to release on October 14th, 2019. Mark my words.

— Geometry Dash 2.2 (@GdUpdate) August 27, 2019
And, when the trailer was released a few days back, the page posted this.
october 14th 2021 https://t.co/XQ2JYMyuAU

— Geometry Dash 2.2 (@GdUpdate) August 14, 2021
Mind you, these are not the official release dates. We hope the update is released soon, and Geometry Dash players can heave a sigh of relief!