The new 2D action and adventure role-playing game, Grime has some extraordinary and bizarre, but interesting gameplay. You may spawn in a dark cave or an endless desert, and get to meet creatures of all kinds. Needless to say, you will be carrying weapons and possess a lot of powers. All you have to do is keep destroying your enemies. The worlds of Grime are ugly but have a surreal feel attached to them. Once you start playing the game, you will find it difficult to stop.
Grime depends on how you move and use your powers to slash through your enemies. It is in third-person perspective so you get to watch both yourself and the enemy moving and fighting through the 2D world. You also get a wider view angle to plan your moves accordingly. Now, the game depends on you dodging maximum attacks from your enemies by moving. Imagine your movements not being smooth in a game like this.
There have been several complaints about FPS experience issues with Grime. Players have also reported issues with movement in the game. Read the article to know more about the situation.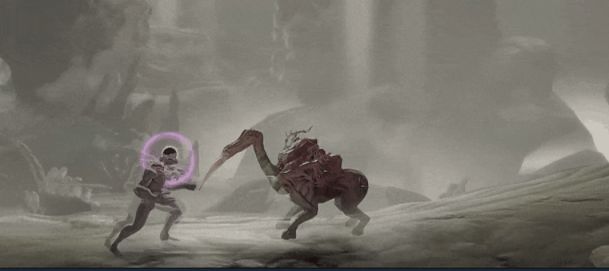 Grime: Can't look up & down movement issue
Players know the game ain't that simple. Grime makes sure you are on your toes all the time as the strength of those odd creatures keeps increasing along with your power as you gobble them up. It doesn't get easier at all, as the size of your enemies increases as you traverse through levels. However, such a game demands a quick and accurate controller input recognition and hence, smooth in-game movement.
But, there has been n number of complaints regarding a movement bug, which won't allow the player to look up and down. Concluding from several replies to a Steam thread, we can say that this bug is seen mostly after the player reaches the desert part of the game.
However, a user has suggested a fix in the same thread. To fix this issue, quit the game and go to the menu, then return to the game of Grime. Doing this seemed to have fixed the issue for a few users. However, it is not an official fix and is not working for many.
What do the developers have to say?
One of the developers of the game have acknowledged this movement glitch and have put out a statement in the same thread. He said that there have been bug reports about this from various Grime players, but the reports were sporadic. However, the developer has asked for a few details. If you are facing the issue, head on to this thread, describe your issue in a reply and add the following information:
Where in the game were you when you realized you couldn't look up or down?
Are you playing with a keyboard and mouse or controller?
If you're playing with a controller, what kind?
Make sure you mention the above correctly. It allows developers to recreate the bug in their own test systems while playing Grime and finally, find a reason and fix it.