So, you are facing the GTA 5 Script Hook V Error. You have come to the right place for the solution. The Script Hook is a library that allows players to use GTA 5 script native functions in custom *.asi plugins. Following the installation of this, you will be allowed to run (extra) scripts in-game. The latest Script Hook V was released to work with GTA 5, but is throwing errors. GTA 5 had also received an update on July 20, and since then the Script Hook is malfunctioning.
If you want to run mods using the Script Hook in your game, please do not update the game to the latest version. The present version of Script Hook is not compatible with the latest update of GTA 5. If you have already updated your game, you will get the error mentioned above. To stop it, downgrade the game to the previous version and you will be good to go.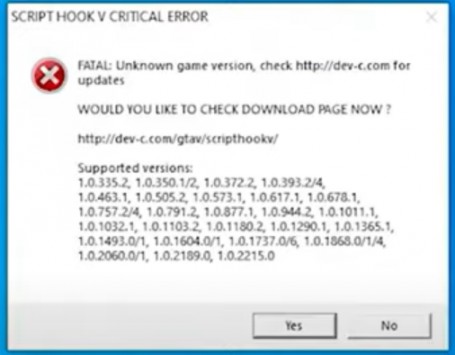 How to fix the GTA 5 Script Hook V Error?
If you are facing the Script Hook V error, we have got the perfect fix for it. Just follow the following steps to downgrade from GTA 5 version 1.0.2372.0 To 1.0.2245.0.
First, open Epic Games Launcher. Then, go to Library and look for GTA 5 in your games list. Click on the three dots in the bottom right corner of the game window. Switch off Auto Update.
Download the previous version of the game 1.0.2245.0 from here. It will be a zip folder. You will have to extract the folder on your computer. After extraction, open the folder and then the child folder in it. It will contain two files: GTA5.exe and update.rpf.
Open the folder where your game is stored. Cut and paste the GTA5.exe file from the download in that folder, replacing the previously existing file.
Next, in the game folder, find and open the update folder. Cut and paste the update.rpf file from the download in the update folder, replacing the previously existing file.
Once you are done, you will be ready to launch the game. Go to the Epic Games launcher and open the game like always. You will be able to play the game without any error now.
Hope you are now able to use your mods in GTA 5 without any errors!