Be it QLED, UHD, or Smart, Hisense has it all. With Dolby Atmos Vision support, you can have a cinematic experience like never before with stunning pictures and wholesome sound. Hisense is a relatively new brand but has found quite a good position in the market for itself. It is majorly known for its extra-low price range. The brand has recently unveiled one of its best TVs, Hisense U80G ULED 8K TV. Fans and critics have applauded Hisense's work on this TV.
Do you own a Hisense TV? That's great. Cannot screen share from your iPhone or iPad? Read this article to know more.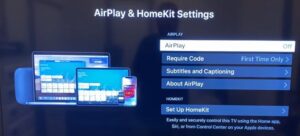 Hisense TV Airplay not working: How to fix it?
Make sure your Hisense TV is compatible with Airplay. If your TV has Roku TV, you will be able to use Airplay. Hence, check whether your TV belongs to the R8, R6, or H4 series. If yes, then it is compatible with Airplay. However, if you have the older version of Hisense Roku TV, you wouldn't use Airplay.
Restart both your devices, i.e., your Hisense TV and iPhone/iPad.
Secure an Ethernet directly from the router to the TV. The WiFi network may be faulty.
Make sure to connect your Apple device and your TV to the same WiFi.
Users should have a 2.4 GHz setup to connect WiFi and TV. Visit Settings > General > Network. Then, choose among the available internet connections which have 2.4 GHz in their name.
Turn off your TV's Bluetooth option. The Bluetooth interrupts with screen mirroring sometimes.
Reset the router and reconnect the device through Airplay.
Check your phone for updates. Do the same for your TV. Both must be updated to their latest software and firmware.
If other tips don't work, users should try reset the TV to factory settings and reconnect the device through Airplay.
Hope the above tips solved the Airplay issue on your Hisense TV.