iOS 14 refers to the recent major release of iOS mobile operating system that has been developed by Apple Inc. for iPhone and iPad Touch lines. It was announced at Apple's Worldwide Developers Conference on 22nd June, 2020 and is a successor of iOS 13 and was officially released on 16th September, 2020. The operating system of iOS 14 comes with a large number of unique features and facilities and has been decently reviewed by users.
Talking about this, we must mention that iOS 14 supports a large number of social networking sites. Social networking sites have been helpful in a way that it has been able to connect us with our closest people like family and friends. Well, conversations on social networking sites have now got a new form which is known as Gifs. If you look into a Gif, it feels like the person on the other side is talking with you verbally. It can be considered as a fun way of talking with others. The system of iOS 14 also supports Gifs and so, you don't have to worry anything about using Gifs in iOS 14.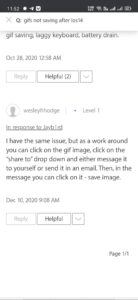 Overall, iOS 14 has been loved by users. But at the same time, it has also received some negative feedback. Every operating system faces various issues and errors at a certain point of time and so, iOS 14 is also going through the same. The major issue has been that people are facing problems in saving Gifs in their iOS 14. A user said that he or she has not been able to save Gifs in his or her iPhone 11 Pro Max after he or she upgraded the system to iOS 14 and the issue has not been resolved yet. If this has to elaborate a bit, then it can be said that after updating the system to iOS 14, people have been using Google Chrome to save images and Gifs but the Gifs show up in their library as the first frame only.
Users of iOS 14 have tried various techniques to solve this issue. A few people deleted Chrome and downloaded it again but the thing remained the same. People turned off their system and tried it again and also tried the feature of screen recording and then crop the recorded thing but it still remains the same.
Still, if this thing has been irritating you a lot, the best thing you can do is you can click on the Gif image and click at the "share to" drop down and also you can message it to yourself or you can send it in email. After that, you can click on the message and save the image. Also, you must remember one thing that they are saved as Gifs so you cannot play them in 'Photos'. If you send the Gif to yourself as a text, you will see that they play fine. Remember that screen recorded video is a video whereas Gifs are image files.