Wondering how to reduce input lag or enjoy high FPS in iRacing? As it happens, frame rates play a very important role in competitive video games like iRacing. Frame drops also affect the online racing experience negatively. For example, if the frame rate drops a lot when you are driving near the corners, you may end up crashing into the boundaries. Players can also miss a top position in the race due to frame drops. You certainly wouldn't want such a thing to happen, especially when you are a dedicated racer! Don't worry, we will help you figure out the best settings for iRacing according to your system; enjoy high FPS by following our settings guide for iRacing!
How to get high FPS and reduce input lag in iRacing?
A high graphics setting will definitely eat up on your frame rates. So, if you own a low or mid-end PC, we recommend lowering the in-game visual settings, if they are set on high. Here are a few basic settings you can tweak in order to increase FPS and reduce input lag:
1) Mandatorily turn off Vsync from the iRacing settings. Enabling Vsync causes annoying frame drops and lags in most video games. In the case of iRacing, something as minor as Vsync can cause major input lags that can cost you important races!
2) Set details to "low". Although most of us love graphical details in video games, setting details to low would be a good idea to get higher frame rates. However, users have sometimes reported losing out on performance if the car and pit object details are set to low. It really depends on your system's power!
3) Also, set the resolution according to your monitor.
Best Graphics (Performance) in iRacing for low input lag and high frame rate
Under the Performance section of the Graphics Options, here's what it should look like:
1) Max Quality: Slider set to least.
2) Sky/Clouds: Low Detail
3) Cars: High Detail
4) Pit Objects: High Detail
5) Event: High Detail
6) Grandstands: High Detail
7) Crowd: Low Detail
8) Objects: High Detail
9) Particles: Low Detail
10) Frame Rate: No limit
11) Vsync: Disabled
12) Anisotropic Filtering: 16x
13) AA Samples/Mode: 4x
iRacing settings are very dependent on what your PC specs are. But most players facing an input lag or frame drop in high-end PCs were able to fix it by lowering a few details and turning Vsync off. A Youtuber named Quirkitized suggested the following settings for a high-end PC: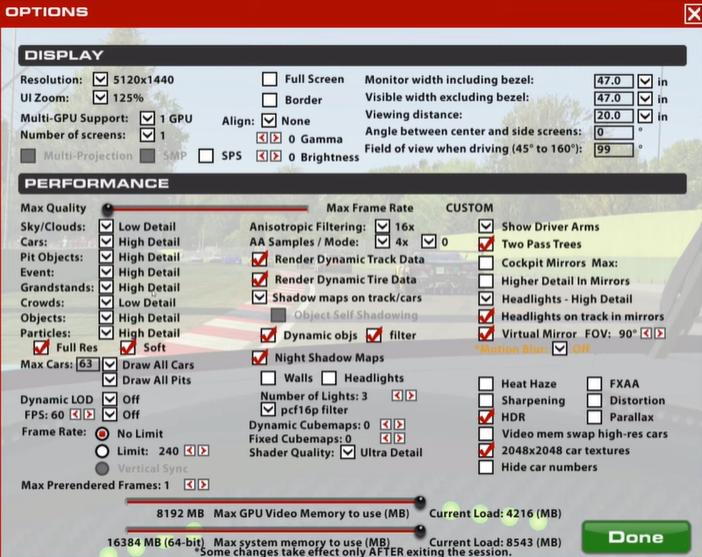 You can check out Quirkitized's video which presents a good comparison of how the game performs in different kinds of settings. You could easily find out the best settings for your mid or low-end PC from said video.
It all boils down to one thing: how strong is your PC. Additionally, make sure you update iRacing UI, use a stable internet connection, update your system's OS and graphical drivers, and also try Performance Mode to stabilize FPS in iRacing!