No Man's Sky is a multiplayer, survival game that includes a procedurally-generated map of open space one can explore. Yes, it's a game of infinite exploration and surviving through harsh conditions. It involves some third and first-person shooting if that intrigues you. All are fine but the game isn't very well optimized, according to fans. Players often complain about the game using 100% CPU or experiencing annoying frame drops. 60 FPS is considered decent in No Man's Sky. But achieving that kind of frame rate is quite the task in NMS. Wondering if No Man's Sky is CPU or GPU intensive? Well, being a multiplayer game, NMS obviously makes use of a lot of CPU resources. Peeps also want a decent frame rate and so, the CPU needs to do a lot of work. But the game is also quite dependent on the GPU.
You'll have to endure bottlenecks if using an old rig. If the CPU is underpowered, it will bottleneck the GPU, leading to frame drops. If you use an extremely old GPU, that will bottleneck your CPU – ain't better anyway. But in general, most players have noticed that No Man's Sky uses more CPU resources than that of GPU. So, it may indeed be a CPU-intensive game. We say 'may' because some peeps have revealed otherwise. They say that their old GPU was the reason behind all the frame drops, and upgrading it got the issue fixed for them. But that doesn't mean the game is more GPU bound.
What are the system requirements for No Man's Sky?
As mentioned before, all video games require a good GPU-CPU pair. You cannot indulge in gaming without a CPU or a GPU. But all video games tend to prefer using one type more than the other. If you are on an old rig with both CPU and GPU requiring a change, it's better to upgrade both for No Man's Sky and other games to run properly. Take a look at the minimum specs for NM, as listed officially-
CPU: Intel Core i3
GPU: NVIDIA GTX 480 or AMD Radeon 7870
System RAM: 8GB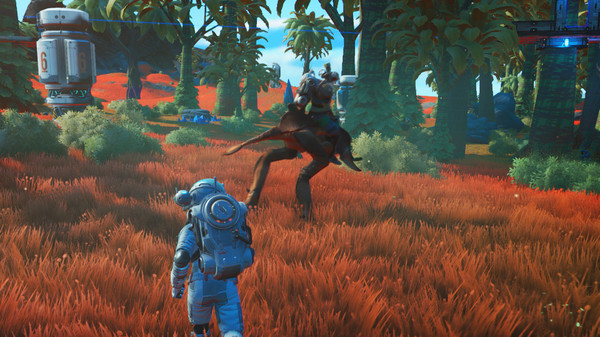 As you can see, the developers haven't really specified the generation, cores, or clock speed requirements for the CPU or the VRAM for the GPU. However, the minimum specs seem very outdated in 2022. Of course, a system with such specs should be able to run the game but the experience would not be satisfying. You'll not get enough FPS or will not be able to play the game at high settings.
Also Read: Is League of Legends (LoL) CPU or GPU Intensive?
We recommend getting a processor with at least four cores to enjoy gaming in 2022. Make sure you get a newer model as older generation CPUs are not well-equipped for multitasking. In the case of GPU, a GTX 1060 with 4-6GB VRAM should do great for NMS and other games too. But that's just for 1080p gaming. If you want to play the game at 4K resolution, opt for at least an Intel i7 or an AMD R7 as CPU (6-8 cores) and an NVIDIA RTX graphics card with 8 GB VRAM. Let us remind you that No Man's Sky isn't very well-optimized, so you'll struggle to get good frame rates at higher resolutions, without good hardware. Make sure to update the game to the latest version available and also update the graphics drivers.