Oh my god, is that the new Knockout City season we are talking about? Get ready to knock out your enemies with balls. Yes, you heard that right? You literally get to use balls as weapons to win this game. The effects of hitting and dodging the ball look incredible! What's more, you can buy outfits and change the look of your character. There are different kinds of balls with different powers, and when it gets hard with what you have, you can also become The Ball! Just remember to get your friends on this mission; going solo in this game is anyone's cup of tea! The new season is all set to land in your nearest store in the month of July. This time it's going to be even better when lots of new maps, balls, special powers, and moves and what not! Want to know more about it? Read on.
Knockout City: Current Season
Week two of the Heat Wave is running in the Knockout City! It has been one "hot" of a week, with new contracts, playlists and a new epic crew vehicle called Shark Attack. The Heat Wave is about to end, so use your saved Heatwave Tickets to buy goodies which will disappear after the phase. The Heat Wave will end on 5 July. For your information, there is an upcoming double XP event you wouldn't want to miss!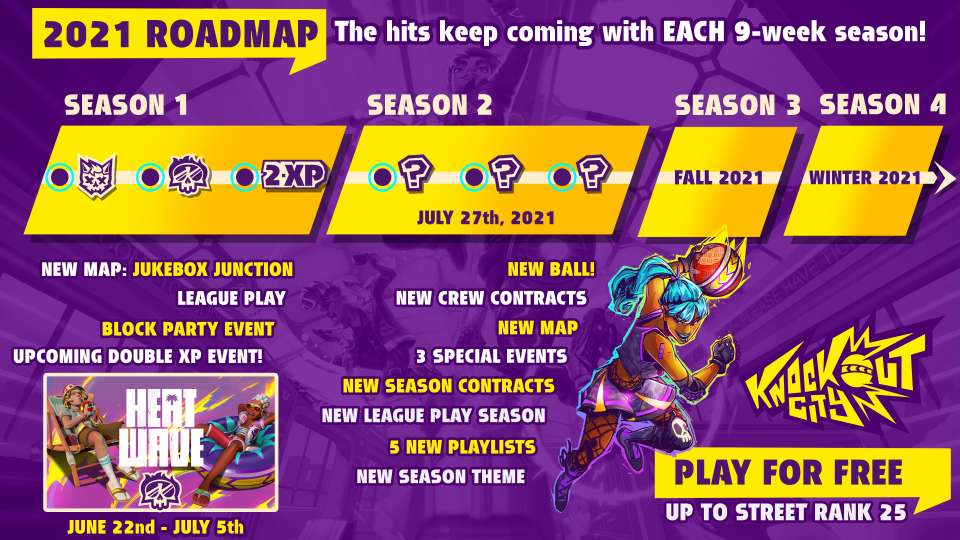 Knockout City: Season 2 Release Date
The new exciting season of Knockout City is all scheduled to release on 27 July. After a glorious season one of the fun game, it is time for something new. Here are all the information you need from the future!
Knockout City Season 2: All new features!
The new season of Knockout City features a new map, a new ball, new crew contracts, new season contracts and the most important: a new theme! Fans are very excited as the new season is going to be a boom! The developer team has also considered bringing back the KO team on wide requests. There will be five new playlists too. Three major events will be held across the entire season which will bring more goodies for players to win. A daily login bonus will also be introduced which will allow players to receive a random gift everyday when they login.
The developers were ecstatic with the response from fans, and promised to reveal more updates in the upcoming days. After all, fans deserve to know!
You can play Knockout City for free until Rank 25, so what's keeping you from downloading? Try the game today.