Kodi is an open-source media player application developed by XBMC Foundation. Kodi offers users to stream videos, podcasts, listen to music, radio, play games across multiple platforms like Windows, Android, Linux, iOS, and many more. Kodi equips Graphical User Interface to stream content from both local and web/ online sources.
The latest Kodi versions, Kodi 18.8, and Kodi 18.9 have created some major issues for users lately. Video stuttering- the most frustrating and trust-breaking issue has absolutely ruined the Kodi experience for users.
Kodi 18.8 video stuttering issue-
A Redditor posted a long thread stating that they recently shifted from Panasonic TV to LG TV with much better specs. But the user has been facing video stuttering frequently, for "0.1" every time it stutters, stated in the post. The user has set "Adjust display refresh rate" to "Always" and set "Sync playback to display" to "On" in Kodi. The users have also shifted between multiple streaming quality but for some reason, the video stuttering issue persists.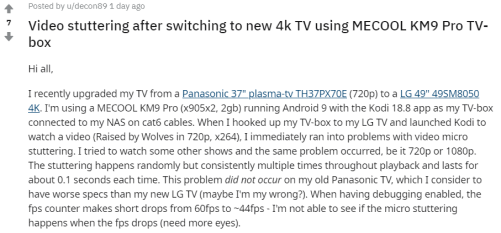 The user, after purchasing a new television, has also upgraded to Kodi 18.8. But that's not all. Another user commented that they have been facing the same video stuttering issue but this time, after updating to Kodi 18.9.
Looking further into the issue, it is now confirmed that the video stuttering issue exists on the Kodi v18.9 too.
Kodi 18.9 video stuttering issue-
Another Redditor created a thread half a day ago, explaining the video stuttering issue, but this time in Kodi 18.9 version. This user is experiencing video stutter every 10 seconds, for half a second to one full second. Making things worse, when the video playback gets right, the audio speeds up to catch up with the video.
But one thing the users have noted is that when a video is played on Kodi 18.9, DSAService.exe spikes, causing the video stutter. DSAService.exe is an Intel Driver Update utility. So uninstalling the utility update has fixed the issue for the Kodi 18.9 user.
However, these are just random suggestions or fixes suggested online. There is no official word on why or how this video stuttering issue came into existence after the Kodi 18.8 and 18.9 update. We will keep you posted if a permanent solution to this error is found.
We post related content and exciting updates every day, so stay tuned! Also, share this article with all those who might find this news helpful!