Minecraft is a massively popular sandbox video game that lets you build structures! If building blocks were your thing as a kid, you will love Minecraft. However, like all other video games, Minecraft has its share of notorious errors too. Here's one that has been bothering many players.
Minecraft Glowstone error
Interestingly enough, all of Minecraft's errors are named after elements from the game. Glowstone is one such element. Glowstones are blocks that emit light. It can be mined to generate glowstone dust, which is an ingredient and retrieved as a block to make other materials.
So, you are experiencing the common Glowstone error. This error usually means that your sign-in action couldn't be authenticated with all the other services. Moreover, this error can come coupled with other errors like the Creeper too. Also, several Minecraft players have described their dilemma having faced the Glowstone error.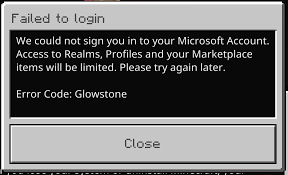 One Reddit user had posted that he had just bought Minecraft and tried to log in to the game, only to face the Glowstone error. So, the complete error message looked something like this.
"Failed to login
We could not sign you in to your Microsoft account. Access to Realms, Profiles and your Marketplace items will be limited. Please try again later.
glowstone error"
To troubleshoot this particular error, first, make sure that you download the Xbox Companion App on your PC and sign in to your Microsoft account. Then, you may try to relaunch the game after this and see whether it is resolved. Complete this troubleshooting step if you're playing on a Windows 10, Android, Xbox, or iOS device. Also, make sure you are using the correct Microsoft account to log in.
If not, please try these general troubleshooting techniques to solve the issue.
General Troubleshooting
Firstly, check your internet connection. You should have a strong and stable connection. Reach out to your Internet Service Provider if you think it's an internet problem.
Secondly, sign out of every Minecraft account (including the attached Microsoft account). Close any open Minecraft application. Restart the game. Then, sign in again into the Minecraft and Microsoft accounts.
Thirdly, repeat the steps above if your error isn't resolved. Try to repeat the steps every one hour until the error is resolved.
If you are using Minecraft Bedrock or commonly called the Minecraft Pocket Edition, and facing the Glowstone error, here's what you can do.
Leave any beta program of the game you are currently in.
Then, without updating, open Minecraft.
Log in to the game.
That's it. The Glowstone error should be gone.
We hope the above techniques were able to solve the Glowstone error in Minecraft for you.