Well, it isn't very uncommon for multiplayer games to be running into error codes. Often, players get frustrated by them and search for solutions online. So, if you've encountered the Error Code Ghast in Minecraft PE, this is the place where you will find the solution you seek. Here's everything you need to know.
Minecraft PE
Minecraft PE is no doubt a very interesting game. It is a sandbox game on your phone where you can enjoy the virtual world on the go. Well, being a very popular game it often disappoints players by throwing random error codes at them. Be it the Error Code Creeper or this new Error Code Ghast. However, if you've ever run into the Error Code Creeper, we have a detailed guide on how to fix it. Visit here to know more.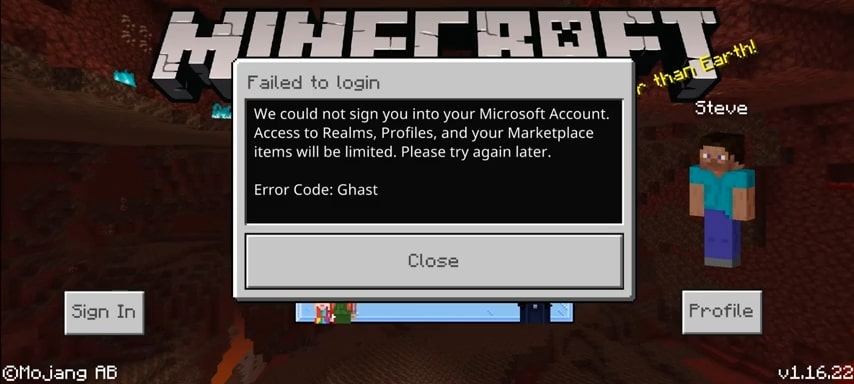 Anyways, back to the topic. In this article, we are going to share with you the solution of the Error code Ghast in Minecraft PE.
Minecraft PE: Error Code Ghast
The Error Code Ghast is one of the rarest errors in Minecraft PE. This error restricts users to play the game by not allowing them to log in with their Microsoft account. Well, since there isn't any official fix for this error, we are here to provide you with one.
Minecraft PE: Error Code Ghast Fixed
To fix the Error code Ghast in Minecraft PE, follow the given steps:
 First, go to your Settings menu on your Phone.
 Look for Apps & Notifications and Click on it.
Now, search for Minecraft PE and tap on it.
After this, go to the Permission menu and click on Files & Media.
Now, deny access to the Files and Media option of the Minecraft PE application. There will an option that says "Deny".
Then, clear any background activity of your phone and launch Minecraft PE & allow files and media permission again when asked. Now, you can successfully play the game.
Now you will be able to log in with your Microsoft Account without having to encounter any error codes. We hope that this guide has been helpful to you and you were able to fix the problem without any further issues. Enjoy!