Facing the game error code 23 in New World? Here's an article to make you familiar with the reasons why you may see the error code and how you can fix it. The error code 23 is not like other notorious bugs which you cannot fix. Read this article to know some fixes and workarounds for error code 23 in New World.
Fans were very excited about the release of New World. As a player in New World, you get to explore the island of Aeternum with friends or solo, fight in battles, craft new items, and attend events. There are game modes catering to the needs of everyone in the New World. New World's voice chat system is also quite interesting. The multiplayer modes of the game are exciting and fun to play. You will have four modes to choose from: Expedition, War Mode, Invasion, and Outpost. Whether you like to play against the environment or against players: New World has something for everyone. However, it is release week for the much-anticipated game. Players are facing a number of notorious bugs. While most of them still require official addressing, error code 23 already has official fixes.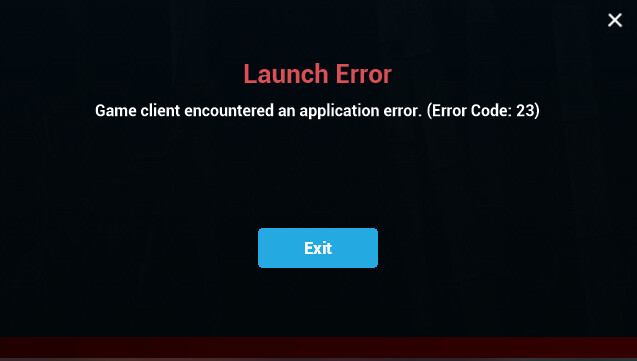 New World game error code 23: Fixes and Workarounds
According to the developers, the error code 23 is usually seen if there are some old residual files that are interfering with the new installs. Here's how you can fix New World error code 23:
If you had installed the beta version of New World during the beta phase, you will have to delete a few files. First, uninstall the game. Then, go to the following folders: C:\Users(your comp name)\AppData\Local\AGS and C:\Users(your comp name)\AppData\Roaming\AGS and delete both of them. Reinstall the game. This should get rid of the error code 23.
Some peeps had managed to solve the error with multiple uninstalling and reinstalling of the game. But, this seems very unfeasible.
Go to the Steam Files folder. Then, delete the steam_appid file. Right-click on the launcher, go to Properties > Compatibility > Uncheck the "start as administrator" box. Restart the game. This fix has helped a player solve the error code 23 in New World.
However, many peeps haven't been able to solve the problem using the above fixes. One of the players has even uninstalled his operating system, but the error still persists. Although the developers have given out a few workarounds, they haven't provided a 100% working fix to the error code 23 in New World. We will update this article as soon as the developers improve the situation. Till then, stay tuned!