Unable to purchase Marks of Fortune in New World? So, you are facing an error code 408 accompanied by a transaction failed message. Marks of Fortune is the name of the premium in-game currency of New World. If you love to customize your game characters, you will need a lot of these. Marks of Fortune lets you purchase cosmetics skins and other extra items from the in-game Store of New World. But, now that the feature seems bugged, many players aren't able to purchase Marks of Fortune to buy their favorite items. Is there a way to fix the error code 408 in New World? The good news is yes. Keep reading this article to find out the fix!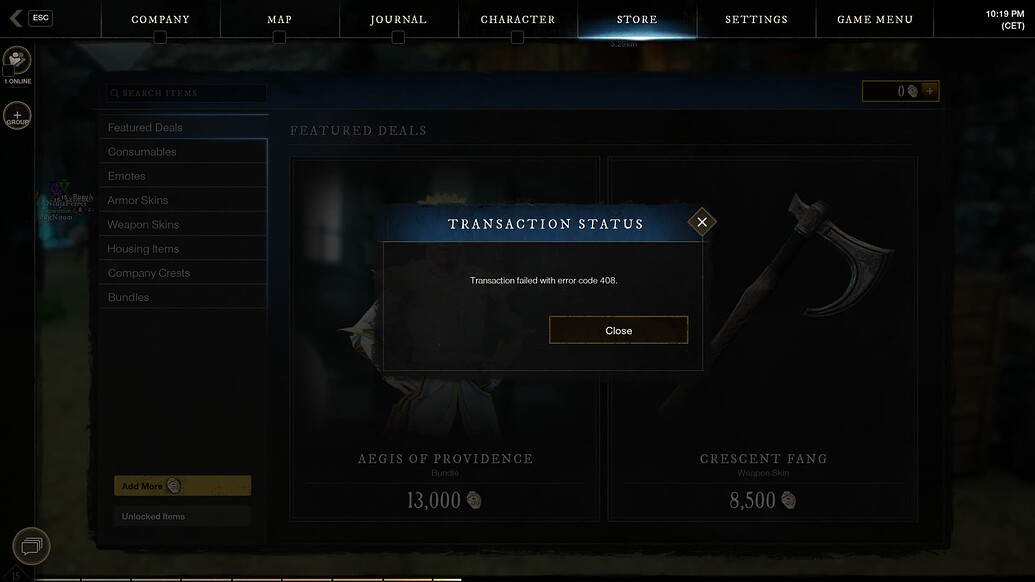 Error code 408 in New World: How to fix it?
I'm trying to buy some marks, only to see that "Transaction failed with 408 code" error. What should i do to fix this, i couldn't find any solution.
If you are troubled with error code 408 in New World, it is most probably an issue on your side. But, don't worry as we have just the troubleshooting steps you need. To get rid of error code 408, you will have to make sure that your Steam Overlay is enabled. Also, the transaction error may be completely related to the server bottlenecks New World is facing right now. According to reports, most peeps have abundant credits to buy the required Marks of Fortune they are trying to get.
To buy the items you want, press the ESC key and go to the Store tab. In the Store, you will find loads of items to buy: armor skins, weapon skins, housing furniture, emotes, dyes, and company crests. All of these will be available to buy, provided you have enough Marks of Fortune. You can add Marks of Fortune depending on your budget. You can buy a specific amount of them as listed in the game: 5000, 10000, 20000, 35000, or 50000 Marks of Fortune.
Now, even if peeps have enough Steam credits to buy the number of Marks of Fortune they want, they are unable to do so because of the transaction error. To fix this, open Steam and go to the Settings/Preferences > In-game tab. Check the box next to Enable the Steam Overlay while in-game. The Steam Overlay lets you perform microtransactions, item purchases, or any other type of in-game purchasing. Without the Steam Overlay, you wouldn't be able to perform any transactions in New World. So, enable the Steam Overlay in the process mentioned above and try purchasing the Marks of Fortune again.