Updated July 21 : The new update for Offroad outlaws is finally rolling out and guess what, it is adding a ton of new content to the game which can be read below.
1) New Trucks including a working tow truck
2) Improved Graphics
3) Tow mirrors
4) 4 new exhaust setups
5) Boats
6) Boats Trailers
7) Floating Ramps in Map Editor
8) Words on Tires
9) Exhaust Flames
10) New Garage
11) Photo Mode
12) New decals
13) Better Particles
14) 3D Mud on Tires
15) Updated Driving Physics
---
Original Post from July 10, 2021 follows below
The popular off-road driving simulator, Offroad Outlaws is getting an exclusive update this year. In this article, we are going to share all the details of the update and discuss what new content is coming with it. Here's everything you need to know.
Offroad Outlaws
Offroad Outlaws is a renowned off-road driving simulator that was released back in 2017. It is available for both Android and iOS and has received highly positive feedback from the community. What makes this game unique is the fact that it allows players to customize their offroad vehicles with a variety of add-ons.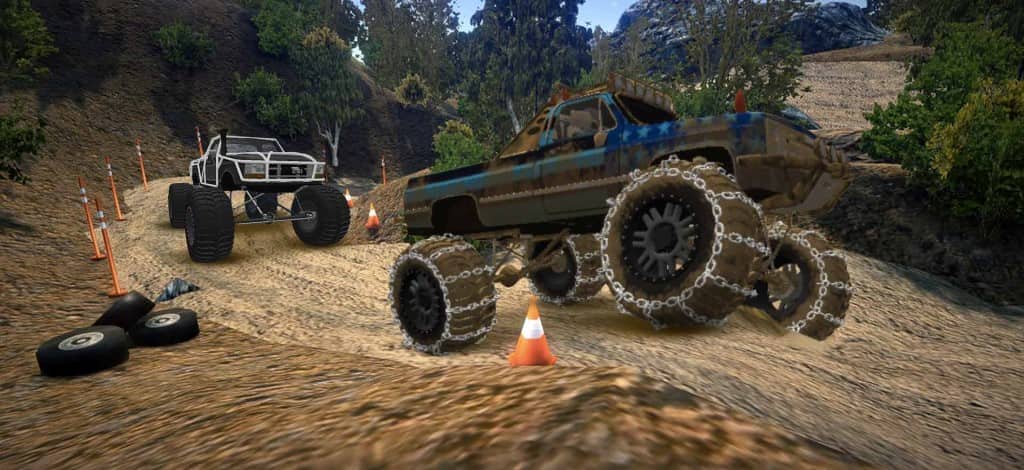 Well, a new update for Offroad Outlaws is currently in talks and we are going to provide every little detail of it.
Offroad Outlaws- New Update
This new update will be including new vehicles as well as new graphics changes.
New Update: Vehicles
A Tundra is confirmed to be arriving with this new Offroad Outlaws update. Well, it is still uncertain what the name of this new vehicle will be in-game.
Another new vehicle confirmed to be included in-game in the new Offroad Outlaws update is the new Ford F650 with a tow body on the back. However, there is no further information about this vehicle so we have to wait a while before more details are released.
Next comes the Ranger Raptor. It has been popular in the community for a while and now it is coming to the game with the new update.
The Safari Defender is also coming with the new Offroad Outlaws update.
New Update: Boats
A new boat might be coming with this new exclusive Offroad Outlaws update. The official Offroad Outlaws page on Facebook posted this image and said-"still a ways to go but…". So, let us wait and see if this actually makes it through.
New Update: Graphics
The Graphics section will be getting a whole new overhaul in this new update. From the given image, we can see the comparison of details between the quality changes of pre-update and post-update. It can be seen that the vehicle on the right of the image has better overall quality than that on the left.
Well, this new update is expected to bring better performance as well. However, if you are on an old device, the game's performance might deteriorate.