POCO launched some of the best flagship devices last year. The upcoming device from the brand seems to be POCO M2 Pro. The device has been talked about on several platforms, but the news isn't confirmed if its officially the next show-stealer from the brand. The device has been spotted on the BIS listing and hence, that unites us all at this article!
POCO M2 Pro Details, Certification-
Firstly, there has been a lot of confusion about POCO M2 Pro's model mistaken for one of the Redmi Note 9 series' device. But under the RF Exposure page of Xiaomi, it is finally brought under notice that POCO M2 Pro's model number is M2003J6CI, with Redmi Note 9/ 9 Pro having separate model numbers. Also, the code-name of this upcoming device from POCO is 'gram'.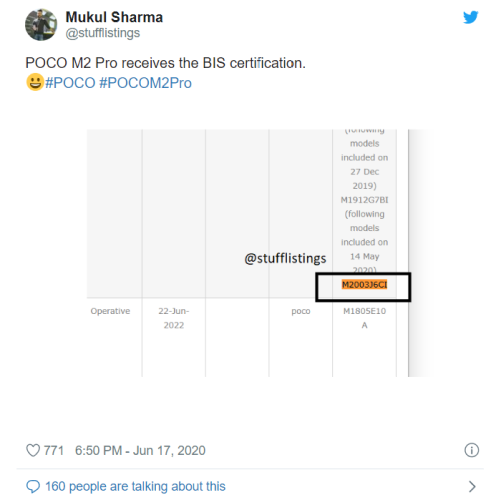 As you can see in the image, POCO M2 Pro has received its BIS Certification in India. With the model number M2003J6C as highlighted, POCO M2 Pro is not far from its release. Above all, there is very important news that explains the price and features of this device. It seems that POCO M2 Pro is a variant of Redmi Note 9 Pro. Both devices share the same firmware and Kernel source code.
Therefore, it is believed that POCO M2 Pro will share similar features with Redmi Note 9 Pro but instead be powered by Snapdragon 720G. It is important to mention how POCO M2 Pro was spotted on Wi-Fi and Bluetooth listing with Redmi Note 9 Pro models. All that we can do is wait for further details about this flagship device from POCO.
POCO M2 Pro Price and Release Date-
POCO's General Manager C Manmohan revealed that the brand will release a brand-new device in 20-25 days. As a result, we can expect POCO M2 Pro to be officially announced by the end of June 2020. The release will follow in the month of July 2020.

Remembering M2 Pro's similarity with Redmi Note 9 Pro, we can assume that this device will cost around Rs. 20,000.
Rest assured, we will update this article if we receive further details about POCO M2 Pro, so stay tuned! Also, share this article with all those who are waiting for this device!