Choice Scarf is a popular Battle Item in Pokemon Brilliant Diamond & Shining Pearl. It is a held item and can boost the speed of the Pokemon holding it. However, the Speed move can be used only once. As you can see, the Choice Scarf is a pretty important item to have. Wondering where to find one for yourself? We are here with just what you need! Read this article to know the location of Choice Scarf in Pokemon Brilliant Diamond & Shining Pearl.
Pokemon Brilliant Diamond & Shining Pearl: How to get Choice Scarf?
There are quite a few pre-requisites before you head for this adventure. Choice Scarf is actually easy to get – purchase one for 25 BP at the Battle Tower. If you have already unlocked Battle Tower, just head over and get your Choice Scarf. However, if you haven't unlocked the Fight Area and the Battle Tower, you have a lot to do before you can buy that Choice Scarf. Keep reading the article to know everything about the process.
First, you will need to beat Cynthia, Champion of the Elite Four. In other words, you have to defeat the entire Elite Four team and become the champion before you get access to Fight Area and the Battle Tower. Defeating the Elite Four also has a few requirements – you will have to defeat all eight gym leaders first. Fans advise upgrading your team to level 60 before taking on the Elite Four. Additionally, you must unlock the National Pokedex – so you cannot get Choice Scarf before completing the main campaign. It isn't going to be easy, obviously. We advise you to check out this article by GAMERANT which features elaborate details you will find useful before you head on to complete the challenge.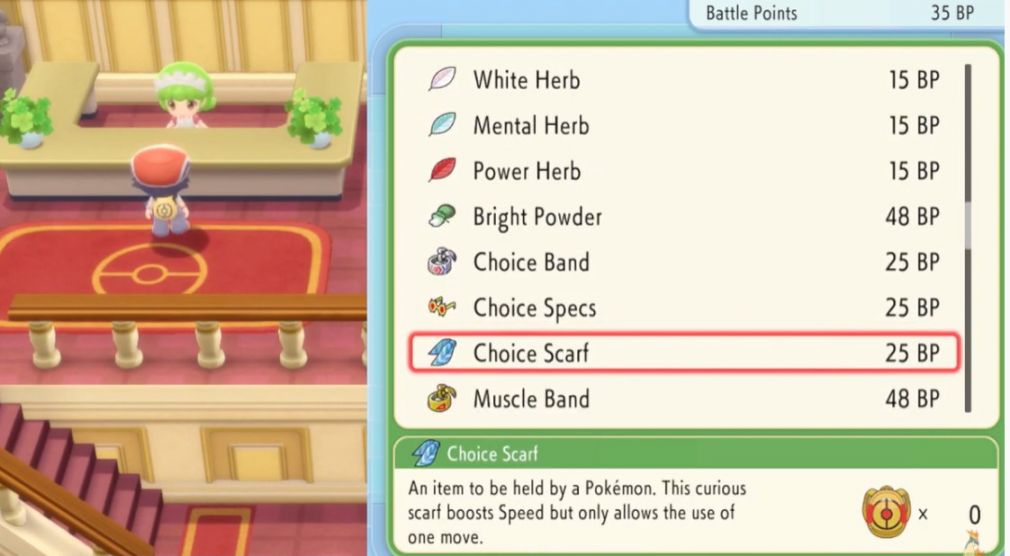 Once you have defeated Cynthia and become the Champion, the Fight Area and Battle Tower will unlock for you. To get the Choice Scarf, head over to the Battle Tower and enter it. While you go upstairs, you will encounter trainers, and defeating them will get you BP or Battle Points. Once you have enough BP, visit the BP Shop or Exchange Service Corner and talk to the woman at the counter. From the list of items, located Choice Scarf and buy it for 25 BP. Congratulations! You now have a Choice Scarf. Give it to a Pokemon in your party to increase its Speed stat by 50%.
For more articles on Pokemon Brilliant Diamond & Shining Pearl, stay tuned to Androidgram!