Completing the Magby line of Pokemons in Pokemon Brilliant Diamond & Shining Pearl is a bit on the difficult side. However, players can resort to trading for the same. Magby, Magmar, and Magmortar are all version exclusives – they are only available for players on Pokemon Shining Pearl. So, if you are a Brilliant Diamond player, you will have to resort to trading. Want to evolve your Magmar into a Magmortar? Read this article carefully as it is a complicated but interesting evolving process.
Pokemon Brilliant Diamond & Shining Pearl: How to evolve Magmar into Magmortar?
To start the process of evolving, you will first need Magby. Now, you will also need to unlock the Grand Underground to get Magby or Magmar. Head over to Eterna City from the Town Map and visit the house next to the City's Pokemon Centre. Now, talk to the old man in the house (the Underground Man) and obtain the Explorer kit. The Explorer kit will be the key to unlock the Grand Underground Region of both Pokemon Brilliant Diamond & Shining Pearl. Magby and Magmar will spawn in the Grand Underground near lava or areas of fire.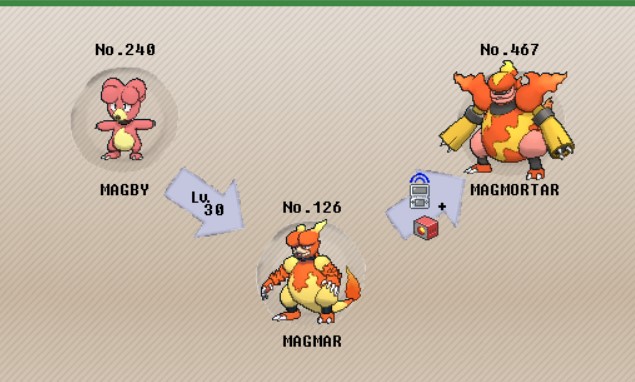 Now, let's discuss the pre-requisites for the evolution again. You will need an evolution item called Magmarizer to evolve Magmar to Magmortar. Magmarizer can be located on a Magby. So, you will have to have Magby in your Pokedex before you start looking for Magmar. You can read this article to know how to catch a Magby. Make sure you defeat the third Gym Leader as it will increase chances of finding a Magby. Please note that a Magby may not hold Magmarizar. In that case, you will have to keep catching Magbys until you receive a Magmarizer. Now, once you get Magmarizer, look for a Magmar in the Grand Underground. It will obviously require a lot of patience as the spawn rate of the Magby family is quite less. Once you catch a Magmar, give the Magmarizer to your Magmar as a held item.
Next, start a trade with your friend and offer him/her your Magmar holding Magmarizer. Once Magmar reaches your friend, it will evolve into a Magmortar. Tell your friend to send Magmortar back so that both of you can complete your Pokedex goals. If your friend has a Magmar holding Magmarizer, you can also ask him/her to trade it with you. After you receive Magmortar, you can trade it back with your friend. Congratulations! You now have a Magmortar in your Pokemon Brilliant Diamond & Shining Pearl Pokedex.
For more articles on Pokemon Brilliant Diamond & Shining Pearl, stay tuned to Androidgram!