Pokemon Go has been known to fall prey to weird bugs and glitches. Some are understandable and players can adjust. But, some bugs are too annoying to be ignored.
Be it the more recent Shiny Pokemon glitch, or the old unresponsive screen issues, no one likes bugs in video games. Here's another bug that is showing up lately. Players are experiencing screen flashing issues due to the weather effect. That's something which needs to be fixed as soon as possible. To know more about why this is happening, read this article.
Sky Update with OSM update on Pokemon Go
With the new Open Street Map update which happened last month, there was another addition to the game. It's the real-time Sky mechanics update. So, now the game mimics the sky situation in your area according to the real-time weather. That's amazing as it adds an extra element of reality to the video game. However, this sky effect may have hatched another bug.
Flashing Screen issues due to weather effect
So, it has come to the limelight that some users are having to bear a flashing screen in-game when bad weather strikes in. This is very undesirable and unappealing to the eyes of the player as well. Users are reporting such bugs through the in-game report system. It is known that most users facing this are Samsung device users. It is also known that most of the bugs are being reported from outside the United States. The flash is described as brief but annoying and happens when the player is roaming on the map i.e. in map view.
Niantic, the game's developers, have of course acknowledged the issue and put out a status regarding the same. Since it's a very unavoidable bug, the issue has been reduced now by eliminating a few of the map effects. This would at least make it less annoying for the users till the time the bug gets fixed. However, developers have also promised to fix the issue by the upcoming patch of 0.217. As per history, Niantic has been very active when it comes to solving bug issues in their games.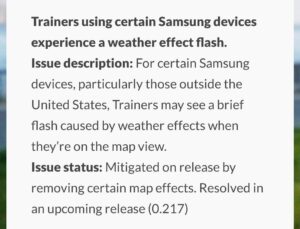 Till then we urge the players to be a little patient!