Pokemon Go's fan base increases day by day. Especially after Open Street Map update, which happened a few weeks ago, fans love the game's feels. However, there's a situation that some fans are facing and is not desirable. I am talking about the Shiny Pokémons who refuse to appear or show up in Pokedex after catching. Well, they seem to be extra naughty. But, turns out it's not their fault. Here's why it's happening.
What is a Shiny Pokemon?
Haven't encountered a Shiny Pokémon in the game ever? Well, it's a matter of luck, to be honest. They are a rare species, and hence very difficult to find. Shiny Pokémons will be of a different color than other pokemons of the same species. How to identify a Shiny Pokémon? That's simple. You will see a Shiny icon on top of their CP.
You get to encounter them if you are lucky enough, mostly during special occasions like Community Days or Pokémon GO Fest. If you want a Shiny Pokemon, go out and be extra alert on occasions. You can also get one during Raid Boss encounters, Special Research Breakthroughs, Research Task rewards, and other rewards. Or if you are lucky enough, you may find one in the wild too!
You would probably want to check the Niantic Blog regularly to know which Shiny Pokemons are available or are yet to be made available. Not all pokemons have shiny versions as of now.
Some Shiny Pokemon variants are only available to catch during special events. Such event-limited Shiny Pokemons' availability will be announced on Niantic's blog as and when needed.
Regional Pokemons vs. Shiny Pokemons
You may encounter Pokemons that look like the Shiny variant but are actually Regional variants. Make sure not to confuse them!
Shiny Pokémon not appearing or showing in Pokedex after catching
Users have reported not being able to see caught Shiny Pokemons in Pokedex after catching. This is disheartening as getting to catch a Shiny Pokemon is a rare experience. Fans are disappointed with this bug.
However, Niantic Support has already considered the bug reports made by users and is currently looking for a solution to this issue.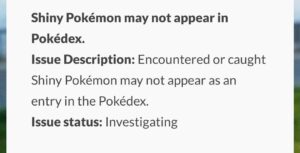 Fans can be assured as this bug will most likely be fixed by the next patch released by Niantic.