Among all the things new in Pokemon Legends Arceus, we also have some ferocious-looking creatures! Don't worry, you can catch and tame them – they are Alpha Pokemons that appear in certain locations across the Hisuian map. Well, Alpha Pokemons are basically the "larger" variants. You can choose to catch a normal variant of that Pokemon too. However, Alphas look bigger and carry enhanced powers – that is something every Pokemon trainer would like to tame.
Since its release, Pokemon Legends Arceus has managed to gather every Pokemon fan's attention across the world. It is unconventional, but there's also a balance between that and the commonly-known Pokemon lore. Pokemon Legends Arceus comes with many Hisuian forms of previously-discovered Pokemons, Noble Pokemons, and many new evolutions we haven't seen before. Alpha Pokemons are also new to the world of Pokemon games – they are exclusive to the mysterious lands of Hisui. With the introduction of so much new, fans are unsure about how Game Freak will continue these features in upcoming Pokemon titles. Well, that's a mystery to be unlocked when the next Pokemon game releases!
What are Alpha Pokemons?
As mentioned before, Alphas display a significantly larger body with profound red eyes. They are very vigilant of their territory, attacking anyone who treads near them. There's also a specific way to approach them – you should never approach an Alpha Pokemon for battle if your team isn't powerful enough. In fact, you cannot capture or battle a random Alpha Pokemon without ranking up enough through the main story. There are over 50 Alpha Pokemons available for you to capture in Pokemon Legends Arceus. Each of them sports the same weaknesses and strengths that of its normal types. So, plan your team and your moves before you begin this expedition! Keep reading to know how to catch an Alpha Pokemon in Pokemon Legends Arceus.
How to get and catch an Alpha Pokemon in Pokemon Legends Arceus?
Hisuian Alphas appear at specific locations – you may also come across one while hunting for a normal Pokemon. They will attack you if you go near them. So, unless you are planning to capture them, avoid approaching them.
If you see a red cross on top of an Alpha Pokemon when you go near them, it indicates that you haven't unlocked battles with an Alpha. Only if you see a Poke Ball on top of them, you would be able to battle and capture an Alpha. To unlock battling an Alpha Pokemon, you will need to collect and complete enough of your Hisuian Pokedex. And, once you unlock battles with Alphas, put your thoughts into building a team. Keep in mind the kind of Pokemon whose Alpha type you are trying to get – note the type's weaknesses and strengths – and then build a team.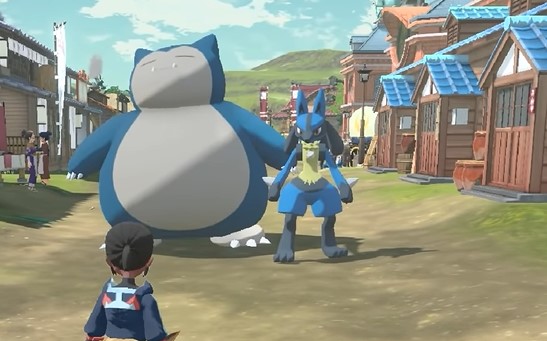 Once you have a team that is strong against the Alpha Pokemon you are after, gather some helpful weapons. Items like Smoke Bombs, Stealth Sprays, and Sticky Glob may help you restrict an Alpha's movement or stun them. You can then act accordingly to weaken and capture them. You can also try distracting them with their favorite treats [food items]. Once they are distracted, fling whatever kinds of Poke Balls you have – especially Ultra and Great Balls. The stealth approach on an Alpha Pokemon will not be successful most of the time. Instead, try throwing Poke Balls after you have weakened them enough with effective blows.
Catching an Alpha Pokemon in Pokemon Legends is a matter of patience and grind. You will not always be successful on your first attempt, but giving up is not a way. For more articles on Pokemon Legends Arceus, stay tuned to Androidgram!