Wondering what all weather types you may experience in Pokemon Legends Arceus? Well, the type of weather will affect some situations in the game. For example, some Pokemon evolves or changes form only during certain weather conditions. Some Pokemons spawn during specific weather, so it is important to keep note of the weather changes in Pokemon Legends Arceus. Not only are evolutions and spawns affected, but the type of weather also affects certain types of moves or effects. So, here's a complete guide to the weather types and their effects in Pokemon Legends Arceus!
Clear Weather (Sun, or sometimes Strong Sunlight)
The first among the list of weather types is the Sun, which is also commonly known as the Clear Weather condition. This particular weather type doesn't affect any of your Pokemons in battle. But, Ponyta and Rapidash are known to appear in Obsidian Fieldlands only during clear weather.
Strong Sunlight, a variation of Sun/Clear Weather, is also a weather condition in Pokemon Legends Arceus. The intense sunlight is not known to affect any Pokemon battles negatively. However, reports suggest that Strong Sunlight speeds up Grass-type moves in the game. In previous titles, Strong Sunlight was known to boost Fire-type moves [as expected]. But in PLA, it wouldn't be the same.
Rainy Weather (Rain, Overcast, or Thunderstorm)
In addition to rainfall, you may also come across an overcast sky weather condition or a thunderstorm in Pokemon Legends Arceus. Rainy weather in the latest Pokemon RPG will affect your trainer character's vision. In addition to that, rainfall will also suffocate fire-type moves. However, it will not boost water-type moves as well. As far as evolutions are concerned, Sliggoo will evolve into Goodra during rain only.
A thunderstorm in Pokemon Legends Arceus is uncommon. But according to reports, certain Pokemon may more likely appear during such extreme rainy conditions.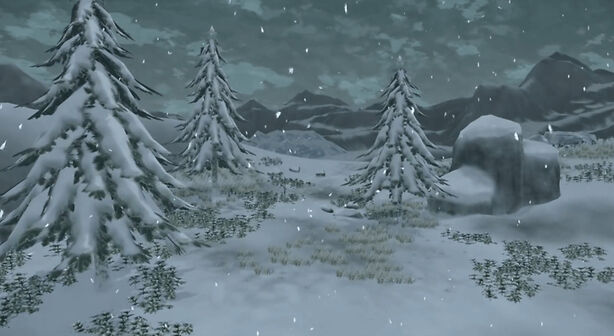 Snow (Snow Storm or Snowfall)
You may be greeted with snowfall in Alabaster Icelands. Sometimes, you may also run into a snowstorm. Either way, your non-ice-type Pokemons will be susceptible to frostbites. Their special attack will be reduced by half. If a particular Pokemon has a Drowsy Status effect, such a weather condition will trigger it. On the other hand, ice-type Pokemons will enjoy a boost in their Speed in snowy weather. Lucario, a Steel- and Fighting-type Pokemon, reportedly appears in Alabaster Icelands mostly during snowfall.
Fog
Like real life, fog will affect visibility in Pokemon Legends Arceus. There's no Pokemon who can take advantage of foggy weather conditions. If you are planning to venture out into the wild during a foggy weather condition, it is advisable to defer the plan until the weather clears up. It is difficult to predict foggy weather before it happens. If you are engaging in battles during foggy weather, your moves are unlikely to be accurate. You can try to use moves that always land no matter what, like the Swift move.
There you have it – all eight weather conditions of Pokemon Legends Arceus! You can very easily change the time of day to get the kind of weather you would like. This would help you catch or evolve certain 'mons which require certain weather conditions without having to wait. You can also choose to avoid certain weather conditions like storms or fog by choosing to sleep at the base camp. For more articles, stay tuned to Androidgram!