Wondering how to fast travel in Pokemon Legends Arceus? Although there are a lot of options to save time while traveling across a map, there is also a major limitation. The latest Game Freak-Nintendo-The Pokemon Company venture has managed to quench most Pokemon fans' thirst. Pokemon Legends Arceus is unusually intriguing. Along with the new, mysterious Hisuian setting, we have also gotten the taste of new evolutions (and Pokemons), Hisuian forms, Alphas, Nobles, and whatnot. We even have exclusive (stormy!) events to bring back some of Sinnoh's, Johto's, and other location exquisites. There's a lot to explore in Hisui, even if you have finished the main campaign. And the existence of fast travel has made exploring very easy! Keep reading to know how to travel from one point of a map to another in the shortest possible time.
There are fast travel points available across a map.
Upon opening the map through your Arc Phone, you will see several fast travel points marked on the map. These are light blue [or cyan] in color with a symbol that looks like "f". Hovering over and selecting them will enable you to teleport to these locations. There's no extra cost for fast travel in Pokemon Legends Arceus.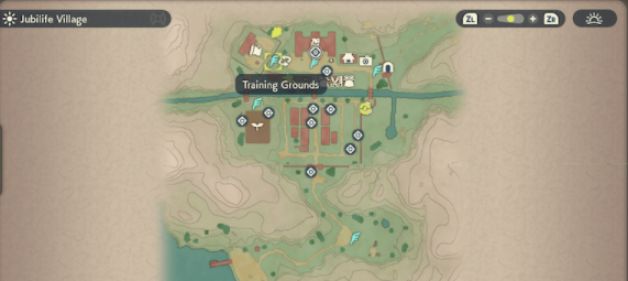 You can talk to Professor Laventon at any base camp.
Talking to Professor Laventon at any base camp will give you an option to fast travel back to Jubilife Village. To fast travel to a base camp of a region, hover over the fast travel symbol with a tent on the map [via Arc Phone] and press the A key. Note that you cannot use the fast travel option across regions. For example, you cannot fast travel from a location in Coronet Highlands to a location in Alabaster Icelands. As an exception, you can fast travel from any region's base camp to Jubilife Village, your home town.
Is there any other restriction to fast traveling in Pokemon Legends Arceus?
There is another thing you must keep in mind – you cannot use fast traveling to escape Alpha Pokemons or any other hostile Pokemon you have met. The fast travel option is disabled during battles or encounters. In the case of Alpha Pokemons, you will be able to use the fast travel feature only after the red warning symbol on the top of the screen disappears. Fans also advise using fast traveling with caution, especially if you are a beginner. Most fast travel-enabled locations are also home to aggressive Pokemons. So, unless you plan to battle them, steer clear of such encounters to avoid unnecessary damage.
For more articles regarding Pokemon Legends Arceus, stay tuned to Androidgram!