Want to get or farm Medicinal Leeks in Pokemon Legends Arceus? It has major medicinal properties, exactly what its name suggests. On their own, Medicinal Leeks cannot be fed to Pokemons to heal them up. However, Medicinal Leeks are important ingredients needed to craft Potion and Revive. They grow abundantly across Hisui. Pokemon Legends Arceus features many ways to get the required amount of Medicinal Leek for your crafting needs. Read this article to know all possible ways to get this useful herb in the game!
Medicinal Leek can be found and collected in Hisuian Regions
The best location to harvest Medicinal Leek from is Aspiration Hill in Obsidian Fieldlands. Head south from your base camp to reach Aspiration Hill; you will find a lot of Medicinal Leek plants growing in and around the location. However, this is not the only place you will find this miraculous herb. According to reports, you may locate Medicinal Leeks in any grassy area or open fields with tall grass. So, you can find these growing in Cobalt Coastlands, Crimson Mirelands, or even Coronet Highlands. However, you cannot find Medicinal Leeks in Alabaster Icelands.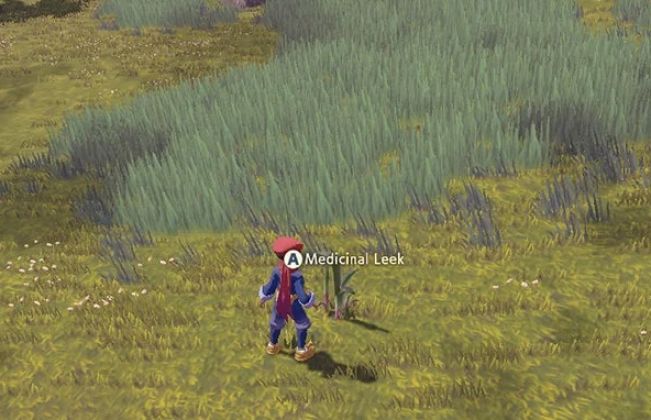 Destroy some haystacks in Crimson Mirelands
Crimson Mirelands not only hosts Medicinal Leeks as plants but also haystacks that carry Medicinal Leeks and other crafting items. These haystacks can be found in Gapejaw Bog. You can summon one of your Pokemons to break the stack for you. Once broken, you will be able to collect the items including Medicinal Leek, if any. However, such haystacks may not always disintegrate into Medicinal Leeks and hence, it isn't a reliable source.
Some Pokemons drop Medicinal Leek
If you defeat or capture some Pokemons in Legends Arceus, they may drop Medicinal Leeks for you to collect. Pokemons like Floatzel, Psyduck, Buizel, Ralts, Golduck, Snorunt, Tangela, and Kirlia may carry this precious herb.
You can buy Medicinal Leek in Pokemon Legends Arceus from a shop
Medicinal Leek costs 120 Poke Dollars; you can buy it from Ginkgo Guild Merchants. However, it may not be available for buying always.
Plant Medicinal Leek Harvests in Pokemon Legends Arceus
Head over to the farm in Jubilife Village and speak to Colza. Choose to plant Medicinal Harvests and pay him 1000 Poke Dollars to plant Medicinal Leek Harvests. Make sure you catch at least eight Pokemons before you return to maximize the reap.
For more articles on Pokemon Legends Arceus, stay tuned to Androidgram!