A Qwilfish in Pokemon Legends Arceus spawns in water bodies and is technically a fish. But, according to fans, it's not a good swimmer [ironically]. Well, that says a lot about the difficulty level of capturing it. Qwilfish is also not a rare spawn – you can easily find one once you follow our guide to Quilfish's location in Pokemon Legends Arceus. Plus, we will elaborate on the process of its capture and its intriguing evolution, Overquil. Stay tuned!
What is a Qwilfish?
In the introductory phase, we would all automatically assume that Qwilfish is a Water-type Pokemon. It is, after all, a fish. Qwilfish, in its previously discovered form, is a Water- and Poison-type Pokemon. However, Qwilfish, in Pokemon Legends Arceus, appears in its Hisuian form. Hisuan Qwilfish differs slightly from its previously discovered form, both in terms of appearance and type. A Hisuan Qwilfish is a Dark- and Poison-type Pokemon and so is its evolution, Overquil. As mentioned before, capturing a Qwilfish is not a hard process. However, you may need Mount Basculegion to swim across the sea and reach a Qwilfish spawn location. If you don't have a Mount Basculegion already, you will have to complete the tenth story mission of Pokemon Legends Arceus to get one. Here are the spawn locations of a Hisuian Qwilfish:
1) Ramanas Island in Obsidian Fieldlands
2) Tranquility Cove, Lunker's Lair, Castaway Shore, and Islespy Shore in Cobalt Coastlands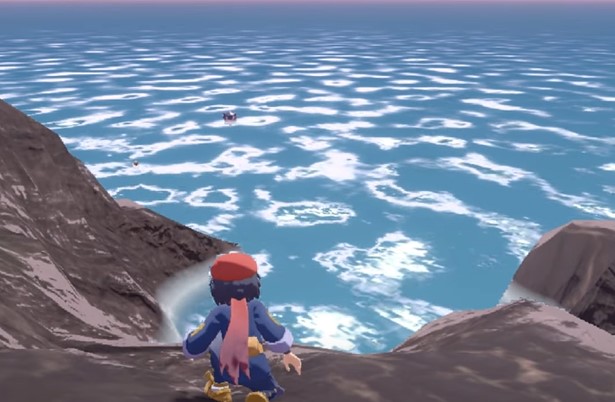 How to capture a Qwilfish in Pokemon Legends Arceus?
A Qwilfish dwells in the sea. However, you may find Qwilfish near the shore too. If you planning to venture into the sea to find a Qwilfish, use Mount Basculegion. For example, you may see a couple of Qwilfish spawn near the curved island to the south of Castaway Shore in Cobalt Coastlands.
Being a fish, a Qwilfish will obviously try to flee when you approach it. So, be extremely quiet and fling a Poke Ball at the unsuspecting creature. Keep reading to know how to evolve it.
How to evolve a Hisuian Qwilfish to Overquil?
A Hisuian Qwilfish and Overquil are worth keeping on your Pokemon team as they are deemed extremely powerful against Grass, Poison, Ghost, and Dark-type Pokemons. They are also immune to Psychic-type moves. To evolve a Hisuian Qwilfish, you will need to make it use its Barb Barrage move 20 times in the Strong Style.
Follow these steps:
1) Level up your Hisuan Qwilfish to Level 15 to teach it Barb Barrage, a new Poison-type move in Pokemon Legends Arceus. To do so, win battles with it. Once your Qwilfish learns how to Barb Barrage, take it on to battles against Fairy and Grass-type Pokemons.
2) Use Qwilfish's Barb Barrage effect in the Strong Style against Pokemons.
3) Upon 20 uses of Barb Barrage in Strong style, your Hisuan Qwilfish will be ready to evolve.
4) Open your Pokedex menu, select your Qwilfish's icon and then choose to Evolve.
That's it – your Hisuian Qwilfish will transform into Overquil in no time!