Want the famous Red Valkyrie in Roblox? Well, for that you will need a bit of luck as well. To know how to get the Red Valkyrie item in Roblox, continue reading this article.
Roblox
Roblox is one of the largest gaming platforms in 2021 where gamers can enjoy different games and have fun with their friends. Roblox features a ton of items in-game which can either be bought using Robux or using codes. Many players have been rooting for the rare Red Valkyrie item in Roblox. It is an extremely rare item that was released back in 2018. Well, we will be sharing all the details with you about how to get this rare item.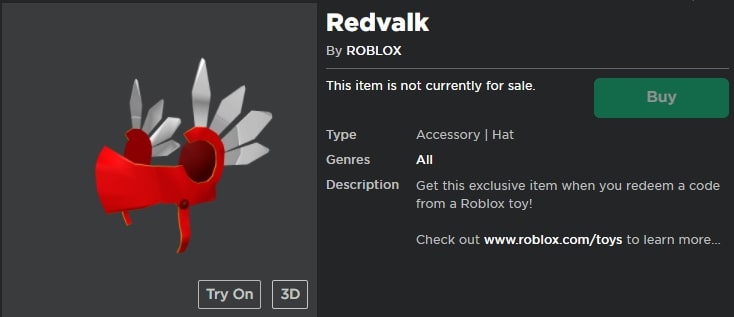 Did you know that you can buy the new Adopt Me Bees Blaster nerf gun from Amazon? For more details, visit here. 
Roblox: Red Valkyrie
Being released in 2018, many players believe that this item is not available anymore. However, that's not true. Players can get this item along with the Deadly Dark Dominus but that remains a topic for another day.
Well, the Red Valkyrie is a toy code item in Roblox which means that it can be obtained using the code bundled with a toy. However, you can't get the RedValk from any Roblox toy. The toy has to be from the Series 5 toy box or celebrity series 3. Also, even after getting the toy, you will have to be lucky to get the code for the RedValk as it can only be owned using a chaser code.
A chaser code is a bonus code that can be found in a card along with a normal code. If the chaser code you got is of the RedValk, then you will be able to acquire the item. And if not, try your luck on another toy. Roblox definitely made it really hard for players to get the Red Valkyrie item but considering its rarity, it is for sure worth it.
Note: The code is different for every toy and a toy code can be redeemed only once which makes the Red Valkyrie item in Roblox so rare.