The bigger the screen, the bigger the fun. Don't you feel the same? Watching movies like Aquaman on Samsung TV gives you the feels; hundred times better than a mobile device can give you. The visuals are such an eye-candy; you will get transported to the world underwater, even if it's just a movie. Some might argue, why not see it in theatres? Well, there are some extremely wonderful movies that you would love to see over and over again. And, it just doesn't feel right to watch them on small screen devices, just because of the sheer amazing visuals.
Samsung is a household brand. It's popular mostly because of the Galaxy franchise of mobiles. However, the brand has made its name in other electronics too. Samsung TVs are quite popular worldwide because of their features like anti-glare, great sound system, and ambient mode.
However, if you are facing any issue with screen mirroring your iOS device on your Samsung TV using Airplay, here's what you can do to fix it.
Samsung TV airplay not working: How to fix it?
Airplay is an in-built screen mirroring feature of Apple devices and lets you watch your phone's content on devices that support Airplay broadcasting. But if it's malfunctioning, don't worry. We are here with some tips to solve the issue!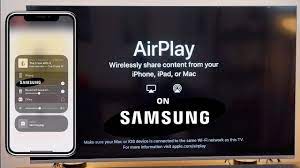 Restart both your devices, i.e., your Samsung TV and iPhone/iPad.
Make sure your Samsung TV is compatible with Airplay. Here is the list of TV models which are compatible:
Secure an Ethernet directly from the router to the TV. The WiFi network may be faulty.
Make sure to connect your Apple device and your TV to the same WiFi.
Users should have a 2.4 GHz setup to connect WiFi and TV. Visit Settings > General > Network. Then, choose among the available internet connections which have 2.4 GHz in their name.
Turn off your TV's Bluetooth option. The Bluetooth interrupts with screen mirroring sometimes.
Reset the router and reconnect the device through Airplay.
Check your phone for updates. Do the same for your TV. Both must be updated to their latest software and firmware.
If other tips don't work, users should try reset the TV to factory settings and reconnect the device through Airplay.
Following the above steps will definitely solve the Airplay issue you are having with Samsung TV!