Splitgate is a multiplayer shooter game involving heavy weaponry and eye-catchy graphics. The game requires players to master portaling and be competitive in order to win a game. It was available for free on PC since 2019 but was revamped and republished recently with console and crossplay support. Splitgate has also attracted a major crowd since its beta release. Due to the nature of the game, it may not have a calming effect on players. Considering the game's entirety, it is wise to think about an age rating. And, the developers haven't neglected that. Read this article to know more about age ratings imposed on the game.
Splitgate Age Rating in different countries
As mentioned earlier, Splitgate is a shooter game that uses guns. The game's aim is to kill enemies. While it may not be as harsh to adults, teenagers may be negatively affected by the violence. Many will say that Splitgate isn't that violent. But, violence can be a subjective term. What you are okay with, may not be taken well by another player. However, the video game age rating only imposes rules on you if you are under 18.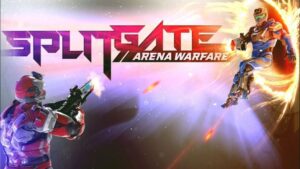 Splitgate's gameplay is violent to an extent. When you kill a player in Splitgate, there's blood leftover. And, the blood lingers around for a while before disappearing. The guns behave like well, guns. Guns are categorically violent, even if it is just a video game. Splitgate features guns which function like real guns. They require ammo, fire bullets, and they are loud. Teenagers and kids may not take that in a good way and the features may affect them negatively. Moreover, Splitgate is free to play and attracts a huge number of players worldwide. There's a voice chat feature as well. So, the exchange of language may be harsh, manipulative, and not suitable for a child.
Splitgate Age Rating in the USA
In the USA, Splitgate holds a TEEN rating certified by the ESRB. This means only players above the age of thirteen (13) can/should play Splitgate. The video game is not suitable for children below the age of 13.
Splitgate Age Rating in Europe/UK
In the UK, Splitgate holds a PEGI 16 rating for strong violence. This means the game contains violence which mimics what it feels like in real life. Players above the age of 16 are a suitable audience for Splitgate.
Splitgate Age Rating in Canada
The video game, Splitgate in Canada has a TEEN rating certified by the ESRB.
Splitgate Age Rating in Turkey
Turkey follows Europe's official video game ratings. Hence, Splitgate is rated PEGI 16 in Turkey.
Splitgate Age Rating in India
The age rating of Splitgate in India is 16+.
Splitgate Age Rating in South Africa
Splitgate has an age rating of 16+ in South Africa.
You can check your country's age rating for Splitgate by visiting the PlayStation Network Store page of Splitgate. The age rating can be found on the right side of the page.