Xbox series X was launched on the 10th of November 2020. Almost every gamer out there got all set for the release. What's funny is that Xbox series X is already unavailable for sale/ out of stock in several regions. Xbox series x promises next-gen speed and performance but some reports lately have raised certain questions that might seem sketchy about what Xbox series X stands for.
Xbox series X users have started facing issues while gaming and reports are all over the internet. One of the users posted a video on Reddit saying they are facing game-crash issues every few minutes. Yes, every few minutes is what they say. You can read the post below and clicking the link will take you to the video where you can see the user playing the game that crashes within seconds.
But here is the reason why this issue hasn't blown out of proportion and completely ruin the Xbox series X launch. Almost every user has commented that the issue is not with the console, but with Ubisoft.
The game you see in the video is Assassin's Creed Valhalla, developed by Ubisoft. A decent number of people have reported that they've been acing buggy experience while playing Valhalla.
Also, Ubisoft is known to have release bugged games several times in the past. Though not intentionally, looks like Ubisoft's way of beta testing is not sufficient to understand the issues with their games on different consoles.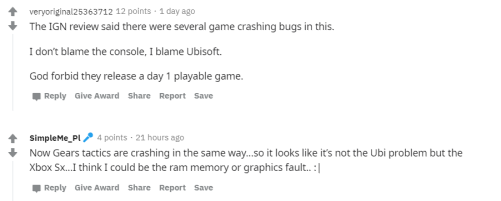 As Valhalla released on the same day too, we cannot really differentiate at this point whether it's a game glitch or Xbox series X glitch. There is no official word from Xbox officials nor Ubisoft officials. We will keep you posted!
We post related content and exciting updates every day, so stay tuned! Also, share this article with all those who might find this news helpful!