No one loves a notch or cutout in a cell phone's display. Xiaomi, specifically, wants to dispose of those gaps and it has thought of an approach to do as such. Through a recent tweet, Xiaomi has unveiled that the company will be launching its new third-gen under-screen camera technology in 2021. While Xiaomi affirms a dispatch date of 2021, the ZTE Axon 20 5G is set to be the first smartphone to ship with in-screen camera technology. ZTE's phone will be launching next week on September 1.
Xiaomi has implied that its third-gen Under-screen camera technology will match the performance of a regular front-facing camera, which it infers ZTE's innovation can't yet present.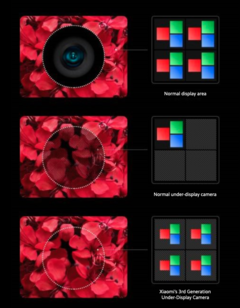 While explaining the technology further, Xiaomi stated, "the self-developed pixel arrangement used in Xiaomi's 3rd Generation Under-Display Camera Technology allows the screen to pass light through the gap area of ​​sub-pixels, allowing each single pixel to retain a complete RGB subpixel layout without sacrificing pixel density. Compared with other common solutions on the market, Xiaomi has doubled the number of horizontal and vertical pixels, achieving the same pixel density above the camera as on the rest of the display area. Thus, the area above the integrated camera demonstrates the same brightness, color gamut and color accuracy as the rest of the display.
Based on the brand new pixel arrangement solution, Xiaomi's 3rd Generation Under-Display Camera also adopts a special circuit design to hide more components under the RGB sub-pixels to further increase the light transmittance of the under-screen camera area. Combined with Xiaomi`s self-developed optimization algorithm, the new under-display camera offers a fully updated photography experience, matching the imaging performance of conventional front cameras".
With the announcement tweet, Xiaomi also shared a video of the prototype device along with a comparison with its latest Mi 10. Though Xiaomi only showed the device from a distance, with the under-screen camera technology, the smartphone looks similar to the ones that come with a pop-up camera.