Beginner in Yu-Gi-Oh Master Duel? Well, Konami's latest creation is a fun-to-play conundrum. Here's the most versatile tip that beginners need to know: learn the mechanics of the game as neatly as possible. For this, play solo mode campaign games which help with the warm-up. Along with this, we have listed the best card decks you can use to start battling against duelists all over the world. How is it helpful to know the best decks? Well, for starters, it is going to help you win all those ranked duels against pros!
Yu-Gi-Oh Master Duel was released on January 19, 2022, for PC, Xbox, PlayStation, and Nintendo Switch. It features cross-play support across all the platforms. An Android and iOS release is also scheduled to happen soon (exact date not confirmed). The game's PvP mode is ranked and allows you to compete with other players. There's also a private multiplayer mode that lets you play against your friends. Yu-Gi-Oh Master Duel is actually a digital card video game based on a popular Japanese manga and anime franchise, Yu-Gi-Oh!
Ten most powerful decks you can try in Yu-Gi-Oh Master Duel
As mentioned before, card decks are an important aspect of the latest Yu-Gi-Oh card game. You can own up to 20 card decks. It is important to know that your main (playing) card deck should contain between 40-60 cards. The extra deck can contain up to 15 cards. A deck can contain a maximum of three copies of a card with the same name. With that being said, let's get to the list of best decks you can own in Yu-Gi-Oh Master Duel.
1) SkyStrikers Deck: A versatile and cheap deck to own for a beginner. The cards in this meta deck are easy to craft or obtain in addition to being powerful against many available decks. SkyStrikers is also resilient against the popular, powerful card, Maxx "C". It is also considered the best link deck.
2) Tribrigade Deck: It is a cheap, easy-to-understand, and powerful deck. Common among Platinum tier players. Tribrigade is considered a Tier 1 deck and is easy to build as well.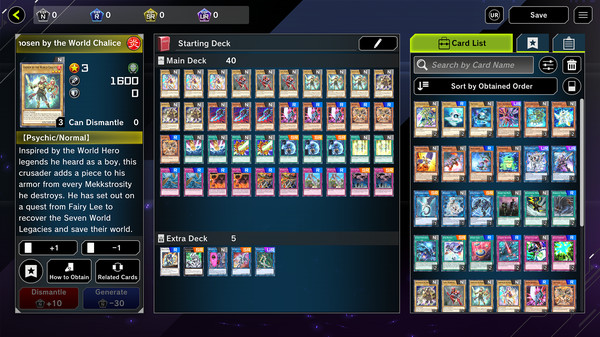 3) Eldlich Deck: There are only three ultra-rare cards in Eldlich's Main Deck. You will need to focus on getting them. However, it is budget-friendly and powerful at the same time. It is a deck that focuses on control and flooding your opponents.
4) DryTrons Deck: This deck is extremely powerful – it has access to three cyber benten cards. DryTrons is extremely common in the Platinum tier and is budget-friendly.
5) Zoodiacs Deck: With this deck, you can play a lot of hand traps. This is also why Zoodiacs is one of the most common and versatile decks for beginners in Yu-Gi-Oh Master Duel.
Also Read: Yu-Gi-Oh Master Duel: How to craft cards?
Other Popular and Powerful Decks
1) Phantom Knights
2) Heroes
3) Virtual World
4) Prank-Kids
5) Cyber Dragon
Before we conclude this article, we would like to stress the importance of building staple cards in Yu-Gi-Oh Master Duel. The more staples you build, the easier it will become to build the deck of your dreams!