Android is an operating system initially developed for mobiles and tablets. It is currently one of the top operating system software, a direct rival to Apple's iOS. The best decision of Google is commercially sponsoring Android. Every Android device comes with Google Apps pre-installed. Removing them will cost a millennium and work including rooting and losing the warranty! Android 10 released last year (2019) and users have been satisfied with the great performance. As many devices still waiting for the update, Android is already into the next Android 11.
Android officially released the first Android 11 public beta and therefore here we are with all that you need to know about the features packed! So, without wasting much time, hop straight into the next section!
Android 11 Beta 1 Features-
Android pushed the Developer Preview builds without delay, as given in the timeline below. But unfortunately, all that users could do last month was, wait to hear the news that the first public beta release has been delayed. But fortunately, you don't have to live with that for long! Android has finally released the first public beta of Android 11 OS. Do note that this article packs the features that came along with the beta version of the upcoming OS. The stable version will consist of a larger number of new and optimized features.

Check out the features below and how impeccable the Android 11 is going to be. Also, stay put to read the availability and updates release details of the Android 11 beta.
Notifications – Separate section for conversations
We all tend to get lost in the pile of notifications when we wake up or pull out the notifications panel after a long time. The present gen mobiles are loaded with apps that help in shopping, food, entertainment, and what not? Users blindly give "Accept" to all that an app asks. At the end of the day, the device is bundled up with notifications.
Rejoice, as Android 11 first Beta brings to you the newest smartphone feature. Notifications that include message conversations will now stack up above all the other notifications on a separate section.
You can reply, mute, and perform other tasks with this feature. Replying via notifications could never get better! The most noteworthy point is that this feature might blow up other OS interfaces. The next two sections will talk about other tasks you can perform related to chats in the notifications panel.
Prioritize conversations
Have you ever muted notifications or an app itself for the constant messages? When done, have you wondered what if that one important person messages you while your phone is on mute? You might not want to miss such important conversations. Nobody would want that. So, the Beta version features the "prioritize" option on the chat notifications.
This will let you allow those messages to ping you that you do not want to miss out on when the phone is on mute. Another feature completely new and mind-blowing! These are the little details making user experience way better.
Convert message notifications to chat bubbles
Regular readers know how we emphasized on chat bubbles feature on all our platforms. Users were eagerly waiting for chat bubbles feature even on the regular messaging system. Facebook's Messenger introduced the world to these cool features. But another way of implementing it is how Android spices it up!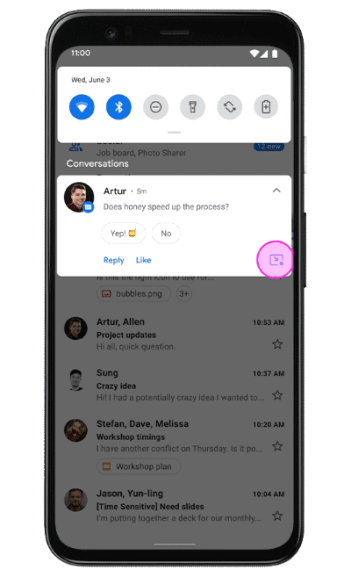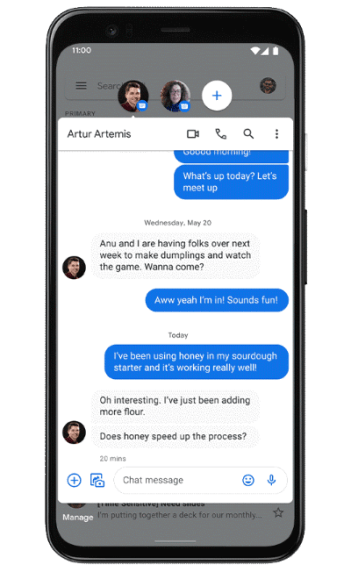 Android 11 users can transform a quick chat on notifications panel into a chat bubble which is a dozen times easier. You can also add multiple conversations and all of them will align into this convenient chat bubble. Refer the images and you will only want the Beta update even deeper!
New media controls
Getting right into it, you will find several options on your notifications panel related to the media player. The first one is output. While listening to a song on earphones, you might swiftly want to switch to Bluetooth speakers or television to listen better. All you need to do is click on the tool above media from the notifications panel.
This will give you the available output methods. Click on where to listen from and put away the chaos of switching and waiting. Additionally, there is another feature along with this media control. Users can now switch between apps, get back, and start right from where you left. Closing apps while listening to the best music and not being able to get that back is a nightmare. But bye to that as Android 11 is here!
"Smart" control
With smart televisions and voice assistants, smartphones need to get smarter! Televisions or any other device connected to mobile phones are usually controlled by the very mobile itself. Therefore, Android 11 Beta features smart control where you can manage all your devices with ease.
All you need to do is long-press your power button. This will bring up a whole new screen that will let you manage and control all the connected devices. It also has cards that handle Google Play's payment methods. Pixel users might be familiar with that.
New privacy settings- One-time permissions and auto reset
With Android 11 (Beta), you can strictly restrict apps from using features like your camera and microphone only once. This is not just a feeling of security. Accidentally opening a camera or getting yourself recorded at unwanted situations like maybe a confidential meeting now departs! This also includes location access. Sharing location and not knowing the status of that after days is creepy. All these chaotic accessibilities finally come to an end.
Above all, Google will now automatically reset app permissions when it isn't for a long time. So, if you feel like uninstalling an app just because you aren't going to use that for a while, you might change that habit. The permissions will reset and hence, it cannot derive any data or access from your device. Using the app once again after a long time will seem like opening a newly installed app.
Availability of Android 11 Beta 1
As expected, the first public Beta of Android 11 is out for Pixel devices first. To be precise, Pixel 2 is already loaded with the update. Oppo confirmed Find X2 will receive the beta update by this month.  A couple of Xiaomi devices too will receive the update soon. With that, the complete list is yet to be revealed. Also, if you manually want to enter this open program of receiving the beta update for your device, you can head over to the link below.
Rest assured, we will update this article if we receive further information about Android 11 Beta, so stay tuned! Also, share this article with all those who were waiting for the update!