Facing a DirectX StorePipeline failed error in Battlefield 2042? There are a lot of unaddressed bugs waiting to be fixed in the popular video game by DICE. However, DirectX errors have been noticeably common. Players have reported at least three kinds of DirectX errors in Battlefield 2042 till now – all of them leading to crashes and making the first-person shooter absolutely unplayable. The DirectX StorePipeline failed error has been annoying players since the beginning of Early Access. Unfortunately, the developers have not been able to fix it yet. So, if you are looking for an official fix, you won't find one. However, there's an unofficial fix to help you get rid of the error.
Battlefield (BF) 2042 DirectX StorePipeline failed error
I'm getting this error whenever I try and launch the game. I've tried reinstalling my graphics drivers, updating to latest Windows version (21H1) and I even reset Windows. Anybody else having this error or have any suggestions as to how to fix it?
As you can see, players have already tried the basic troubleshooting tips suggested by the community. But, updating Windows and Graphics Drivers or even reinstalling the entire game didn't seem to solve the DirectX StorePipeline failed error in Battlefield 2042. Here's what the error window looks like –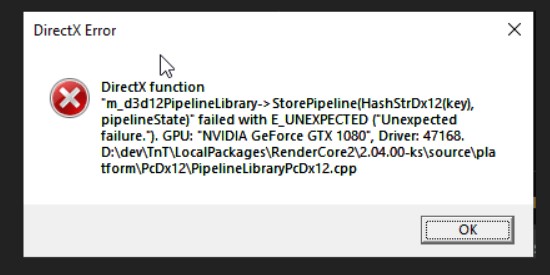 Additionally, peeps who updated their Windows from Windows 10 to Windows 11 faced annoying performance issues and frequent crashes in Battlefield 2042. All the DirectX errors have made the game completely unplayable – some reported facing crashes every five minutes. So, why is EA charging for Early Access to such a buggy game? Players are extremely frustrated. Some have even refunded their game to avoid wasting their money. The workaround we promised to introduce you to is also not 100% guaranteed to work. To be precise, all these crashes have different root causes – a workaround may work for somebody and not work for others. Another user posted an update from the official Discord server of Battlefield 2042 –
I asked several times but got no official answer. That's why I consider what i received on Discord wrote is official.
The first Patch, only avaliable November 19.
That's what they wrote there. I have asked this several times since.  – MakrancosKutya, EA Answers HQ user
Is there any fix yet?
Regardless of the above, we are posting the workaround we came across while looking for solutions –
1) First, hold the Windows + R keys to open the Run window. Now, Enter regedit in the text box and press Enter.
2) Under LOCAL_MACHINE, look for Microsoft and then open Cryptography.
3) Under Cryptography, look for MachineGuid. Keep a copy of the original MachineGuid contents before changing. Now, clear the content and enter d1eb246e-6243-4460-a88e-5d4e52b1ef6b.
4) Save it and close everything. Now, launch Battlefield 2042.
The above fix was posted by an EA Answers HQ user, FeSi2. For more updates on Battlefield 2042 and other video games, stay tuned to Androidgram!