Facebook Messenger is a great way to keep in touch with your Facebook friends and also ditch the normal messaging app. If you have a Facebook account, creating a messenger profile is just a click away! On the other hand, if you don't have a Facebook account, you can still have a Messenger account. Yes! Facebook Messenger provides you all the latest add-ons so that you can chat with your friends and connect with them in a fun way as well. Games, GIFs, Stickers, Personal Stories: You name it, and all of that will be waiting for you in Messenger.
If you are facing trouble with sending GIFs on Facebook Messenger, read this article for all the fixes you will need.
What are GIFs and why do people like them so much?
Video gives people a voice. – Chad Hurley
GIFs (Graphics Interchange Format) are short (extremely short) videos or animations. They can be used in apt situations to trigger an emotion. Text chats can become monotonous after a while, and GIFs can bring back the fun. GIFs can be made out of any video. Say you like an actor's reaction in a movie or in some video, you can make a GIF out of it and use it in perfect situations to express yourself. There are no rules to making GIFs. You can make anything or everything into a GIF. The goal is to have fun on Facebook Messenger.
Facebook doesn't allow you to upload GIFs from your computer or mobile. However, you can access millions of GIFs from the GIF button on your keyboard. You can also add GIPHY or TENOR GIFs.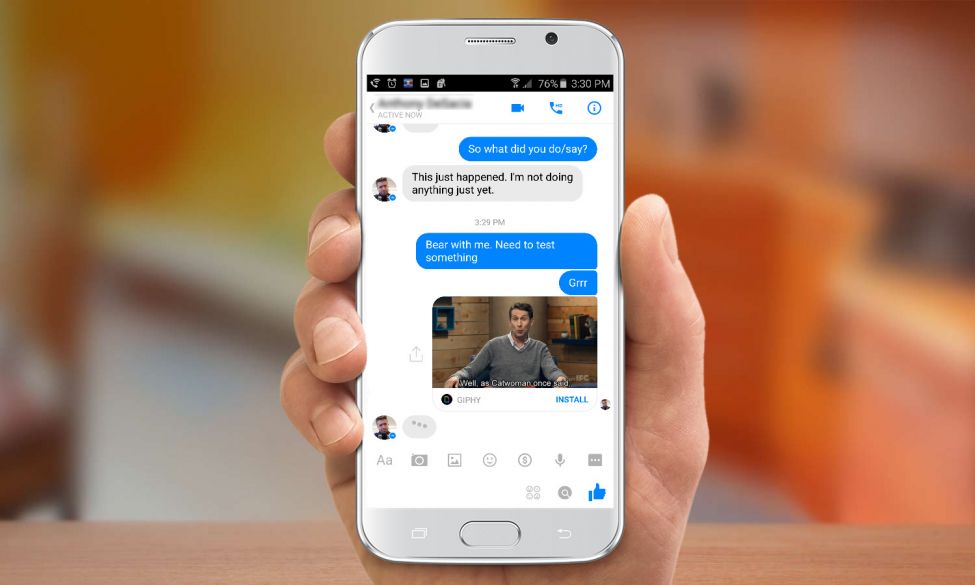 How to fix Facebook Messenger GIFs not working?
Users may have issues sending GIFs on Facebook Messenger where the GIF will not be delivered, and a red exclamation mark will appear beside that. On tapping the red exclamation mark, you may not be able to resend the GIF. Well, there can be several reasons why this may happen. We are listing the fixes for you to be able to solve the issue.
Check your internet connection: This is the number one cause of why Facebook Messenger wouldn't send across your message or GIF. Restart your router or check your mobile data by launching other apps.
Try sending a different GIF: It may be a technical issue that a particular GIF isn't being sent across. Try using a different GIF; if it is going through, then the previous GIF was just unavailable or faulty.
Force Stop the Facebook Messenger app: If you are on Android, long-press the app and tap on the i button to open app settings. Tap on Force Stop. Reopen the Facebook Messenger app. If you are on iOS, you can clear all your recent apps.
Uninstall and reinstall the Facebook Messenger app: This process will solve most technical issues with the Facebook Messenger app. Uninstall your app and then reinstall it. Try sending GIFs again. If it still doesn't work, try the next step.
This should solve the GIF issue for your Facebook Messenger app. However, if you are on PC accessing Facebook Messenger from a browser, here is what you can try.
Clear out browser cache and data from your web browser settings or preferences.
Try using a different browser.
Disable any third-party browser extensions you are using as they can interrupt your Facebook Messenger.
Hope you are able to send GIFs on Facebook Messenger now!