Forza Horizon 5's launch is knocking on our doors, especially true for peeps who have ordered the Premium Edition (3 days to go!). Hence, it is probably the perfect time to discuss one of the most interesting topics regarding Forza. Wondering what the fastest car in Forza Horizon 5 might be? While most of us are waiting to try the game, some have been luckier! The official early access phase for the game starts on November 5. However, some veterans and gameplay streamers were able to take a sneak peek during the first week of October. And, thanks to them, we now know a lot of intricate details way before the launch.
While doing our research, we came across Don Joewon Song's opinion on what might be the fastest car in Forza Horizon 5. Don Joewon Song is a Pro-Racing Youtuber who has a lot of videos on the entire Forza Horizon Series. And, he happened to try and find out what the fastest car in Forza Horizon is. Well, we are going to tell you everything about his big experiment. Keep reading this article to know.
Forza Horizon (FH) 5 Fastest Car: Which is it?
In the experiment, a lot of S2 class cars were put to the test. This included the following cars:
1) Lamborghini Sesto Elemento (Extreme Track)
2) Ferrari 599XX Evolution (Extreme Track)
3) McLaren Speedtail
4) Bugatti Chiron (Hypercar)
5) McLaren F1 GT (Hypercar)
McLaren F1 GT is the most expensive hypercar in Forza Horizon 5 and is priced at 15,000,000 in-game credits. However, none of the above cars could go past 290 miles per hour even at silly tune combinations. But, one car surpassed all of the above in this experiment, and that was the Koenigsegg Jesko. The marvelous Koenigsegg Jesko reached over 300 miles per hour (at one point, 308 miles/hour) when fully upgraded and with the following tuning combination: drag tires, rear-wheel drive, and racing suspension. With such a speed number, we can call the Koenigsegg Jesko the fastest car in Forza Horizon 5. So, is that it?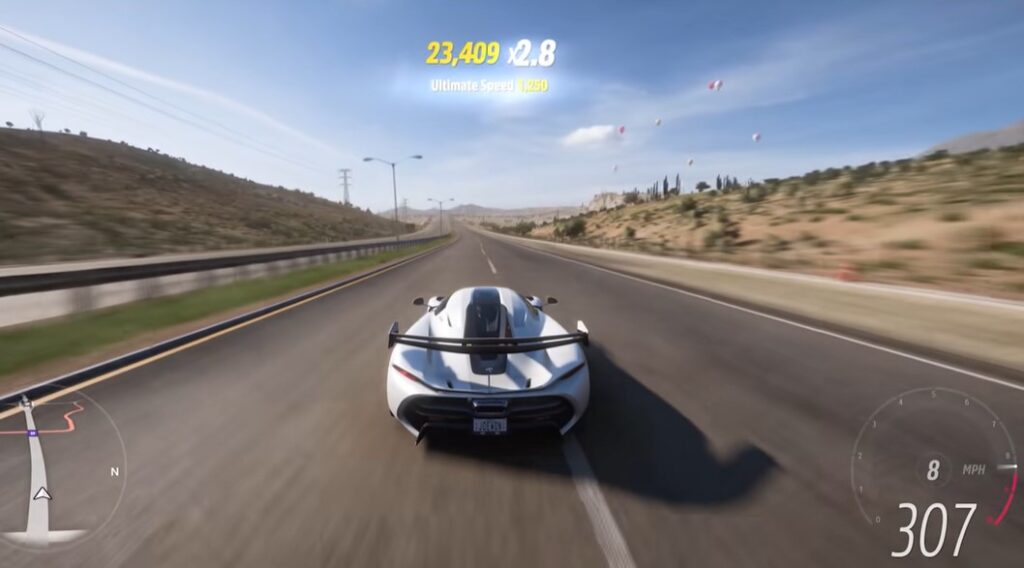 According to Don Joewon Song, this experiment was very limited. He tried getting his hands on other cars like the Koenigsegg CC GT, the Bugatti Veyron, and the McLaren Senna as they seemed capable enough to break the record. But, these cars are hard-to-find cars in Forza Horizon 5, and therefore, Don couldn't include them in the experiment. The other car he thought could beat Jesko was Jaguar D-Type, but it was extremely pricey (22,000,000 in-game credits) and hence, wasn't included in the experiment. As of now, we can surely consider Koenigsegg Jesko as the fastest car in Forza Horizon 5. But, it is not entirely impossible for someone to find a tune combination for other cars and break this record. Moreover, Koenigsegg Jesko may be the fastest one out there but is horrible at racing.
For more such articles on Forza Horizon 5, stay tuned to Androidgram!